BoxNation offers £100,000 charity purse for Katie Hopkins vs Charlotte Church fight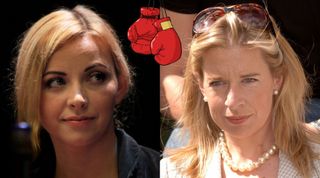 Katie Hopkins and Charlotte Church could end their war of words and throw some real punches at each other instead, after being offered a jackpot of £100,000 for a bout in the boxing ring.
Boxing channel BoxNation is offering the money – which would be paid out to the winner's choice of charity – as well as training for the celebrity pair, who have traded verbal blows on Twitter after the outspoken columnist criticised the singer's attendance at an anti-austerity march in Cardiff.
Oi! @charlottechurch wind your neck in. Your Welsh AND you lost. Own your problems http://t.co/yq2cpoSW9W pic.twitter.com/rFbA9XKQTl
— Katie Hopkins (@KTHopkins) May 9, 2015
The Voice Of An Angel star then challenged Katie to a boxing match.
@TeeJay2201 I'd relish to opportunity to lawfully smash her face in. #i'dtrainhard #likearockymontage #foreveryone
— Charlotte Church (@charlottechurch) May 10, 2015
@KTHopkins Fancy a charity boxing match?
— Charlotte Church (@charlottechurch) May 10, 2015
Jim McMunn, managing director of BoxNation, said: "If these two want it to happen in the ring then BoxNation will make it happen.
"We immediately guarantee a purse of £100,000 for their nominated charities and we look forward to facilitating this showdown. Boxing is the ultimate one on one – Twitter and social media becomes a cowardly nonsense."
He said the channel, which broadcasts on Sky, Virgin, TalkTalk and online, will train them up in return for an exclusive live showing of the fight.
Charlotte vs Katie (Twitter/JimboLoony)
Jim continued: "BoxNation will ensure both fighters are ready to step through the ropes and face each other in a reality neither could ever have imagined.
"With role models like Nicola Adams and Katie Taylor, boxing is an inspiration to all women who love sport and there is no doubt that if they want it to happen, the fiery personality of both Church and Hopkins will ensure this is a fight not to be missed."
Ladbrokes has tipped Charlotte to win the match at odds of 1/5, with the Welsh star also 4/5 to score a knockout against her outspoken rival, while Katie is 4/1 to win the match and a distant 10/1 to win by knockout.
Ladbrokes' Jack Beresford said: "Katie Hopkins may be famous for her acid tongue, but punters are backing Charlotte Church to show that the former Apprentice candidate's bark is far worse than her bite."
Get the latest updates, reviews and unmissable series to watch and more!
Thank you for signing up to Whattowatch. You will receive a verification email shortly.
There was a problem. Please refresh the page and try again.