Bradley Walsh: 'I'd love to see Boris Johnson on Keep it in the Family!'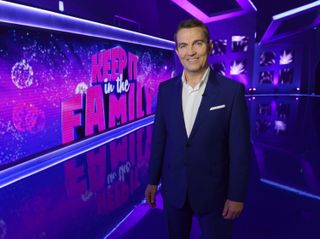 What's on TV caught up with entertainment maestroBradley Walsh, who revealed why he'd like to see Boris Johnson, Simon Cowell and Ant and Dec on Keep It in the Family (ITV, Saturday)!
He also revealed the fun in store for the new series…
What can we expect from the second series?
"This series has stepped up a level. We've got more global acts on and the families are sensational. We had over 2000 families apply because of last year's series! The brilliant thing about this show is anyone can watch it or take part, and the prizes are really lovely – a car, a holiday or something the kids really want."
Are there any new games for the families to play?
"We've added an extra round entirely! It's called Keep It in the Family, Family Entertainment, or FAME. It's specifically geared toward kids. Each week we have local schools or theatres come on and they perform something musical, from Annie or Oliver for example. So the show is even more packed than last time."
Are the Nanas back?
"Yes, all the familiar faces are back and we've got some new nanas too! We keep them on a rotation system. Even though they're young at heart we don't want to tire them out. It's like having my own harem! We all get on great and they're so genuinely funny. What you hear them say is completely off the cuff. It's thrilling to work with them. Often they say things innocently, but I've got a couple of saucy girls there as well, so it works great."
What celebrities will we see parading the prizes and dropping though the trapdoor this year?
"The celebrities are fantastic. Antony Cotton is back on. He told me, even though he's petrified of standing on the trap something compels him to do it. We've also got the Emmerdale lot, the Corrie lot and the TOWIE lot, as well as celebrity couples like Flavia Cacace-Mistry and her actor husband Jimi Mistry, and Chloe Jasmine and Stevie Richie from The X Factor. Guests just want to come on and be dropped through the trap!"
Have you been dropped though the trap yet?
"I went through it on a test last year to show willing, and I won't be going though it again! It's a very peculiar thing – it's not the drop, but the anticipation that's the awful part. If you listen carefully, on the show you can hear the gate squeak as it opens underneath. It's like a gallows, it's awful."
Is there anyone you'd like to see dropped?
"I'd love some politicians to come on and do it. Someone like Boris Johnson. And some really big stars like Simon Cowell, or Ant and Dec. And any American celebs that are in town! This year we've got The Beast from my show The Chase on. I can't wait for people to see what he looks like on the trap!"
Get the latest updates, reviews and unmissable series to watch and more!
Thank you for signing up to Whattowatch. You will receive a verification email shortly.
There was a problem. Please refresh the page and try again.