British actors explore the world of wine in new ITV series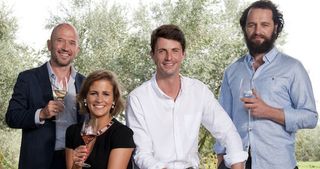 (Image credit: Susan Wright Photography)
British actors Matthew Goode and Matthew Rhys are to take the helm of a new 13-part series about wine.
Based in a villa in the Italian countryside, Goode and Rhys are set a new challenge every week which sees them exploring different parts of Italy and uncovering some of the best wines that the country has to offer, and the stories that surround them.
"My late father elicited my interest in wine, bless him, and it has become a life-long love affair!" said Goode, who played Lady Mary's love interest Henry Talbot in Downton Abbey. "Matthew Rhys and I had so much fun pootling around Italy garnering more and more information on this sensational liquid…
"Actually, the word 'fun' doesn't even really come close. We are all very proud of the show, it's funny, moving, informative, and Matthew Rhys runs Father Christmas very close on the world's greatest beard. Mostly though, the series is about wine through and through, and there's not an ounce of snobbishness, thank goodness."
The Wine Show will also feature 12 leading chefs who each have to cook the perfect meal to accompany their favourite wine and reveal why they love their chosen bottle as well as explaining why they have chosen their dish.
The show also features wine experts Joe Fattorini and Amelia Singer, who are on board to guide the two Matthews on their journey.
Meanwhile, Rhys, who starred in the US drama Brothers & Sisters, said he had never tasted wine before signing up for the series – which is a bit odd given that the show he's famous for followed a family who had their own wine business!
"I'd never tasted wine before this show, my father always locked it in a cupboard marked 'Illicit'," said Rhys. "As a new fan of wine, I couldn't endorse it more, it makes any situation fun, although I still have no idea how it's made.
"This show will help you buy better, especially for high days, holidays and Christmas, and the beard was fake so that the local Italian vintners didn't think me to be Oz Clarke! I dare anyone to watch this show and not fall in love with Matthew Goode and wine ... in that order."
Thank you for signing up to Whattowatch. You will receive a verification email shortly.
There was a problem. Please refresh the page and try again.