The BURNING questions we want answered in the Line of Duty finale!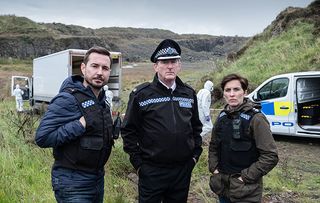 (Image credit: ITV)
Our round-up of the mysteries we want solved as Line of Duty draws to a close - don't read if you've not seen the latest episode!
After epic curveballs, shocking deaths and tense interrogations, Line of Duty comes to an electrifying conclusion this Sunday with a feature-length episode - the longest in the show's history.
And there's plenty of drama to pack in because stalwart AC-12 boss Superintendent Ted Hastings (Adrian Dunbar) is currently in custody after being arrested on suspicion of conspiring to murder undercover cop John Corbett (Stephen Graham).
Will his dedicated colleagues DI Kate Fleming (Vicky McClure) and DS Steve Arnott (Martin Compston) fight to clear his name?
Here are the key questions we really want answered in the Line of Duty finale…
Who is 'H'?
The biggie! All evidence points to Hastings, especially due to his increasingly furtive behaviour. But is the real "H" setting him up and does "H" genuinely refer to the crook's name or should the pool of suspects be widened further? "We like to surprise," teases writer Jed Mercurio. "It's great when people get excited at the end of the series and are talking about what they want to know and see next."
Does Gill Biggeloe have something to hide?
The police legal counsel (Polly Walker) has romantic history with Ted and appears supportive, but she is currently the bookie's favourite to be "H". Could she know more than she is letting on? "Our characters are deliberately not designed to be goodies or baddies...," hints Jed.
What are Lisa McQueen's motives?
The ruthless OCG leader (Rochenda Sandall) ordered the death of John Corbett but has looked guilt-ridden. Does she simply have a conscience, or could she be undercover herself? "She is a lone wolf," says Rochenda. "I have a poker face like Lisa, I'm not letting anything go!"
Why have Jackie Laverty's body parts been found with Corbett's?
The remains of the crooked property developer (Gina McKee) were kept by the gang. But by now linking her death to that of Corbett, do they want to further incriminate Hastings? Or is another plan afoot? "It's a surprise when something feeds back to past series," says Vicky. "People have theories, some are far out there but some are on the nose…"
Why is Carmichael so desperate to bring Hastings to justice?
No-nonsense anti-corruption officer DCS Patricia Carmichael (Anna Maxwell-Martin) seems dead set on proving that Hastings is up to his eyes in criminal behaviour. But is she just being icily efficient, or could she be corrupt herself? "She is on a mission," says Anna.
Will Steve's injuries impact on the investigation?
Steve is still suffering from the aftereffects of the attack on him last series, but will his problems blight the case as it concludes? "There's stuff wrong with him physically and that's affecting him mentally," says Martin. "He's broken. Another series is due. But we don't know if we've all made it yet!"
For the full story see tomorrow's new issues of TV Times & TV & Satellite Week!
Line of Duty concludes on Sunday 5 May at 9pm on BBC1
Get the What to Watch Newsletter
The latest updates, reviews and unmissable series to watch and more!
Caren has been a journalist specializing in TV for almost two decades and is a Senior Features Writer for TV Times, TV & Satellite Week and What's On TV magazines and she also writes for What to Watch.
Over the years, she has spent many a day in a muddy field or an on-set catering bus chatting to numerous stars on location including the likes of Olivia Colman, David Tennant, Suranne Jones, Jamie Dornan, Dame Judi Dench and Sir Derek Jacobi as well as Hollywood actors such as Glenn Close and Kiefer Sutherland.
Caren will happily sit down and watch any kind of telly (well, maybe not sci-fi!), but she particularly loves period dramas like Call the Midwife, Downton Abbey and The Crown and she's also a big fan of juicy crime thrillers from Line of Duty to Poirot.
In her spare time, Caren enjoys going to the cinema and theatre or curling up with a good book.