Call the Midwife – Helen George reveals the big stories coming up including bigamy and a fire!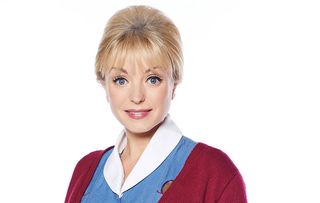 (Image credit: BBC/Neal Street productions)
Helen George reveals what to expect in Call the Midwife
There are some huge stories coming in Call the Midwife – here Helen George, who plays Trixie Franklin in the BBC1 hit, reveals the top five…
1. Health scare
Sister Monica Joan (Judy Parfitt) experiences anxiety when she is diagnosed with cataracts. "Judy is given such gifts of monologues and does it so well," says Helen.
Anxious: Sister Monica Joan needs an eye operation
2. Bigamy
An Asian factory owner is stunned that her husband has also married a pregnant teenager. "We're outraged with our Western eyes that this could happen, but our world is getting wider," says Helen.
3. Taboo subject
The midwives help a lady who suffers from Tokophobia, a fear of childbirth. "It is a taboo topic," says Helen. "But it's great that our creator Heidi Thomas tackles interesting and brave subjects."
4. Rare disease
The medics deal with a rare case of leprosy. "The poor actor playing the person with leprosy was in the make-up chair from about three in the morning, but it looked incredible," says Helen.
5. In peril…
When a fire breaks out in a shop later in the series, Barbara (Charlotte Ritchie) and Nurse Crane (Linda Bassett) are in danger. "Big dramatic stunts are fun to do and it's refreshing having them alongside the medical stories," says Helen.
Call the Midwife continues on Sunday on BBC1 at 8.00pm.
Get the latest updates, reviews and unmissable series to watch and more!
Thank you for signing up to Whattowatch. You will receive a verification email shortly.
There was a problem. Please refresh the page and try again.