Casualty new boy Shaheen Jafargholi: Marty is the polar opposite to Shakil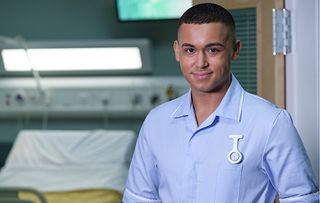 (Image credit: BBC / Alistair Heap)
EastEnders star Shaheen Jafargholi has been in Casualty before!
Last time we saw former Britain's Got Talent star Shaheen Jafargholi, he was playing his heartbreaking final scenes as knife crime victim Shakil in EastEnders. Now he's swapped the mean streets of Walford for the busy wards of the ED, joining Casualty as enthusiastic new student nurse, Marty. Here he reveals what to expect…
What can you tell us about Marty?
Shaheen Jafargholi: "He is a bit of a know-all at times but he's just really keen to impress everyone at the hospital and do well on his first day. He's quite playful and fun and he never misses an opportunity for a sarcastic comment!
"There's some rivalry with the other new nurse, Jade, which we will see develop into a friendship. Marty is the polar opposite to Shakil, which makes him refreshing to play."
What's been the toughest part of the job so far?
SJ: "They don't mess around with the script here – I cannot pronounce some of the medical words for the life of me! Luckily there's a medical advisor on set and they will coach you through every syllable of it. There's obviously a whole art to pretending to do procedures that you have absolutely no idea about too, but they guide you through!"
We hear you've actually visited Holby ED once before?
SJ: "Yes, I was actually in an episode of Casualty when I was six. I played a patient with incurable hiccups and I had completely forgotten about it until I read for the part of Marty! It's so weird to be back here. Charlie's face is one of the most iconic on British television, it's so strange but brilliant to do scenes with him."
Your EastEnders knife crime exit storyline made a huge impact – you must be proud of how it was received?
SJ: "Yes, it's crazy that people I meet still talk to me about it. It was a great opportunity for me as an actor, but also the storyline itself was so important and EastEnders did it perfectly, it was so well written and hard-hitting. It really resonated with the audience and I was humbled to be a part of it."
Are you still in touch with your former co-stars?
SJ: "Yes, sometimes I feel the entire purpose of me being in EastEnders was to meet some of my best friends! I'm such great mates with Bonnie (Langford), Tilly (Keeper) and Jasmine (Armfield) who played Carmel, Louise and Bex. Ironically I see them more now than when we worked together so I feel like I haven't left!"
Get the latest updates, reviews and unmissable series to watch and more!
Thank you for signing up to Whattowatch. You will receive a verification email shortly.
There was a problem. Please refresh the page and try again.