Casualty newbie Maddy Hill: I still hang out with Danny Dyer!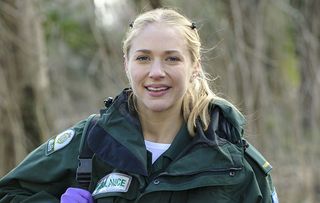 (Image credit: BBC / Alistair Heap)
The ex-EastEnder reveals all about her new role as a paramedic
We know her best as Danny Dyer's daughter Nancy Carter in EastEnders, but Maddy Hill is busy saving lives these days, playing newly qualified paramedic, Ruby Sparks in Casualty.
The award-winning actress is loving her time on the Cardiff-filmed Saturday night drama [check out our picture preview of her debut], and here she tells us what to expect when her character hits the screens.
Are there many similarities to filming EastEnders?
Maddy Hill: "It was massively helpful having been on EastEnders before. As an actor nothing really prepares you for that environment, because drama school trains you for the stage, not the screen. I remember being a bit shell shocked in my first few weeks at EastEnders but when I started at Casualty I was like, 'Oh it's this world again!'. It's the same rhythm but you get a little bit more time for detail and far more stunts!"
Do you still see your friends from EastEnders?
MH: "I was hanging out with Himesh Patel the other day, [who played Nancy's boyfriend, Tamwar], he was doing a bit of filming in Cardiff last week and we hung out for a couple of days, had something to eat together, went on lovely walks. And I'm seeing Danny [Dyer] and Kelly [Bright, who still play Nancy's mum and dad, Mick and Linda] on Sunday, they're such lovely people."
What can you tell us about Ruby?
MH: "She's the polar opposite of Nancy Carter! She's very pedantic and rule-abiding, the kind of character I haven't really played before. I've always wanted to play someone who does everything by the book because I think there's a hell of a lot of comedy in it. Audiences always warm to people who play the hero and trust their instincts, but there's absolutely none of that with Ruby, so she might really annoy the viewers!"
She certainly winds up her fellow paramedics, Sam and Iain, doesn't she?
MH: "Absolutely, there's friction because they're so different, especially with Iain who is so gung ho. A lot of the senior doctors are not very impressed with her either, usually because of some terrible lack of judgment on her part. But they're all forced to work together, and they all have the same motive of saving lives, so they have to learn to get on a bit better and strike a balance where they can actually tolerate each other! Iain does eventually start to respect Ruby's knowledge."
The paramedics are going to be front and centre for the next few months, as Casualty focuses on the ambulance service. How does Ruby fit in?
MH: "You're used to just seeing the paramedics when they pick up patients, but we're going to spend a lot more time with them, which is great. The way the NHS is going at the moment, a lot of young paramedics aren't learning on the job anymore, they come out of university supposedly fully trained and they just hit the road. The NHS is so overstretched they just need bodies out there straight away, so someone like Ruby thinks they can hit the ground running, but 90% of it is people skills… and she doesn't have any!"
Did you do any medical training for the role?
MH: "I had a day where I learned CPR, but when it came to the scene I was still worrying about breaking the actress' ribs. There are various styles and everyone in the cast gets teased for how they perform CPR! I'd have an instinct now if I had to do it in real life, but I don't know why they don't teach it in schools. I love the paramedic costume, I call it my ninja turtle suit. Someone told me I look like Lara Croft in it, but I'm not so sure!"
Have you had any stomach-churning moments with prosthetic wounds?
MH: "I'm very squeamish normally, and there have been some nasty knee dislocations, which were pretty grim, but I've realised that if I know something's fake I'm alright with it. The fake blood is fine because you can smell the sugar syrup in it, it's just like having jam all over your hands."
Did you do any extra driving lessons before steering the ambulance?
MH: "I had to take another test! It was hilarious because the the theory test is really specific, so in the two weeks before we started filming I was having to learn what tonnage can you drag if you've got a certain type of trailer on the motorway! I spent two days on a course with truckers in Somerset, and I'm now qualified to drive an HGV. We've done some very fun high speed car chases, I've really landed on my feet."
How did you feel about moving from London to Cardiff for the job?
MH: "It was a big thing at first but I've got a lovely little flat here now, with a balcony overlooking Cardiff Bay in the sun, and I go back to London every weekend. I've realised I genuinely enjoy my own space, I love coming back to my flat. Some of the cast stay in a hotel, but I like to cook my own food and potter around. Everyone on the show is so lovely and thoughtful, especially Michael Stevenson, who plays Iain, he's a total gentleman who would do anything for anyone. I'm very lucky."
Were you already a Casualty fan?
MH: "I used to watch it when I was a kid. It's so funny, I watched Corrie, EastEnders and Casualty till I was about 16 and then I didn't see any of them for ages, so it's mad coming back to that world. Casualty is a brilliant show, the balance between the guest storylines and the resident characters always makes for something interesting."
Casualty is back this Saturday with Maddy Hill making her debut.
Thank you for signing up to Whattowatch. You will receive a verification email shortly.
There was a problem. Please refresh the page and try again.