Casualty spoilers: 'It's morally complicated!' says star George Rainsford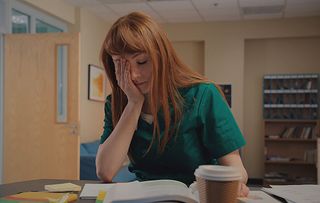 (Image credit: BBC)
George Rainsford reveals how Ethan takes his eye off the ED resulting in a career disaster for Bea in Casualty…
Junior doctor Bea Kinsella pushes herself to impress in Casualty this week when acting clinical lead Ethan Hardy gives her full run of the ED. Seeing it as a chance to redeem herself for blundering into Dylan Keogh's private life and also an opportunity to shine as a doctor, Bea relishes having responsibility of Resus. However, disaster is just around the corner when the young doctor makes a potentially fatal error…
We talked to George Rainsford, who plays Ethan, to uncover what goes wrong…
Why does Ethan take his eye off the ED this week?
"It's a difficult situation. He should be mentoring Bea (Michelle Fox) and looking after Resus but he asks her to step up and impress him while he's off helping Leigh Anne Carr!"
Do you think Ethan favours Bea over her junior doctor colleague Rash Masum?
"He does favour her so far. He's taken on being a mentor to Bea and generally keeps an eye on her a bit more than Rash at the moment."
That seems a bit unfair…
"If anything Rash has a lot more similarities to Ethan when he was starting out. Rash doesn't really know what he's doing so it's a little bit double standards from Ethan!"
Bea's devastated when Ethan comes down hard on her this week. How do you think Casualty fans will react?
"I don't think the viewers will necessarily be siding with Ethan over the mistakes Bea makes. He's not looking after his team properly because his focus is elsewhere…"
Is it fair to say, Leigh-Anne's return to the ED has a major impact on Ethan's behaviour?
"Leigh-Anne (Cassie Bradley) hasn't had any answers about Scott Ellisson's last moments or exactly what happened. She can't get rid of the image of Scott suffering at the end. Ethan eventually admits that he can give her some information and tries to reassure her."
It sounds like a worrying development for Ethan…
"Ethan and Leigh-Anne start to head down this road of inappropriate bonding over the shared experience of grief. She's grieving for Scott and Ethan's still grieving for Cal. It's really morally complicated!"
Casualty continues on Saturday 14 April at 8:35pm on BBC1
Get the latest updates, reviews and unmissable series to watch and more!
Thank you for signing up to Whattowatch. You will receive a verification email shortly.
There was a problem. Please refresh the page and try again.