Casualty star Cathy Shipton: 'I've had panic attacks and I'm not ashamed'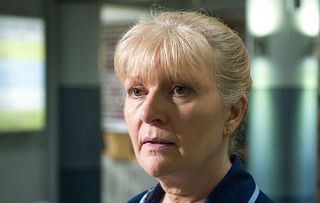 (Image credit: BBC)
Casualty star Cathy Shipton opens up about her real life experience with panic attacks ahead of nurse Duffy's emotional story this Saturday on BBC One
In BBC medical drama Casualty, Cathy Shipton plays the mild-mannered, dependable and – if a certain politician will forgive us for borrowing a contemporary phrase – strong and stable nurse Lisa 'Duffy' Duffin. This Saturday's Casualty aims to show another side to the iconic nurse, revealing she's been secretly coping with anxiety and depression.
At one point during the episode viewers will see Duffy suffer from a panic attack in the hospital stairwell, only for former flame Bill Crowthers (played by London's Burning star Clive Wood) to step in and help distressed Duffy by coaxing her to slow down her breathing.
It's a storyline that already tugs at viewers' hearts, with many praising the actress on social media for her imminent portrayal of panic disorder and mental illness.
We talked to Cathy Shipton, who plays Duffy, who reveals her performance is based on real life experience…
How did you prepare for this development in Duffy's storyline?
"I have had panic attacks, and I'm not ashamed. I think a lot of people have had them, although they may not have called them that, or recognised them."
So you understand how Duffy's feeling in this episode?
"Yes, and I can understand how panic attacks can be construed as heart attacks. Your pulse races, some people get tingling in their lips or tongue, or around their face, or even in their fingers."
Do you mind talking about your own experience of panic attacks?
"The first one I ever had, I don't know what induced it. I was filming a One Foot in the Grave Christmas special, and filming was going fine. I was staying in a hotel and I woke up in the middle of the night, bolt upright, wondering where I was, because I was in a strange room. My jaw was tingly and my heart was going like the clappers. I just had to get myself to breathe, put on the light and centre myself."
You must have been worried?
"When I talked to people they said it sounded like a panic attack. What brought it on? That can never really be answered. Some people say stress or they had a really weird combination of food and woke up. Other people say they got really bad news and it caused a panic attack. So it's a myriad of reasons. The way it manifests itself in people is different, but it's usually shallow breathing and heart racing."
Did you consult a doctor?
"I did go and see a doctor and I got complete reassurance. They did my blood pressure. I said, it's because I lost my dad when he was 62 and is that coming out in me? And they absolutely categorically reassured me I was fine, people have these, it's not indicative of anything else."
Are you glad Casualty is showing these issues can affect anyone?
"Yes, because these things, when you experience them, you absorb them into your life. You have a little think about your circumstances. It's like a little glitch. It's a little blip but it can be very unsettling. Casualty is reflecting the lives of people working in the public services. That's what we're playing and exploring in the show, it's brilliant to do that."
How do you deal with it when it happens?
"I haven't had loads over the years but I do know what they're like. My fella has seen me with them and I tell him, just let me breathe and I'll be okay. If you're around someone when it happens, just be calm and reassuring; it will pass and it is okay."
Casualty continues next Saturday at 8:35pm on BBC One
Get the latest updates, reviews and unmissable series to watch and more!
Thank you for signing up to Whattowatch. You will receive a verification email shortly.
There was a problem. Please refresh the page and try again.