Chris Packham on Autumnwatch going to America: 'Moose are HUGE!'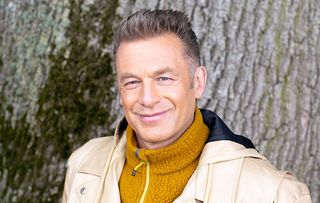 (Image credit: BBC/Pete Dadds)
Chris Packham reveals why he's excited for Autumwatch's American outing with Michaela Strachan and Gillian Burke…
The great debate about when to put on the heating has begun, which can only mean one thing… Autumn has arrived. Outside, trees are bursting into colour and squirrels are going nutty for nuts. Inside, we're looking forward to settling down for a new series of Autumnwatch.
In a change to previous seasons, this year the BBC2 wildlife series will come from America, as presenters Chris Packham, Michaela Strachan and Gillian Burke head out to Squam Lake in New Hampshire, in the heart of New England, to witness six and a half billion trees create a colour sensation that can be seen from space!
Meanwhile, a network of high-tech hidden cameras has been installed to capture impressive local wildlife in action, including moose, black bears, flying squirrels, coyotes, racoons, and bobcats.
TV Times caught up with Chris Packham, 57, before he flew out to America for an insider guide to what's in store…
The Watches have filmed at Sherborne Park Estate in the Cotswolds since 2017. How does it feel to be heading Stateside?
Chris Packham: "It was great to be at Sherborne because we achieved our mission of wanting to follow one place through all four seasons. But of course, there's always excitement to move somewhere new, and particularly to go overseas!"
What are you most excited about?
CP: "Adventure and an opportunity to learn! Personally it's an opportunity to learn more about that part of the world and see how it contrasts with this part of the world. Some themes will be the same, like migration. But there's a lot of difference in migration. We also have overlaps in the species – grey squirrels, American mink, starlings, house sparrows. So looking at how these contrast in their behaviours will be interesting. If a squirrel runs across my garden I don't look twice! But out there, in its natural environment, it will be interesting to see what grey squirrels do."
Do you find the bigger mammals, like bears and moose, exciting too?
CP: "Oh yes. Here we have this cosy existence where the largest thing we bump into at night is a fox or a badger! But they have bear, bobcat and moose. Bears are great for spreading seeds, and moose are huge! I'm particularly interested in animals like racoons and skunks because they've overcome adversity and are doing well. Skunks come with a reputation but they're fascinating. Timber rattlesnakes have become conversation icons. And New England is famed for its raptor migration."
Where are you broadcasting the live shows from?
CP: "There are two hubs. Michaela and I are going to be at a picturesque log cabin on Squam Lake – basically we'll be on Golden Pond, which doesn't make me Henry Fonda! I hope Michaela's watched the film so we can do lots of references. Gillian's going to be at the Squam Lakes Natural Science Center. We're following the same practice of all our Watches and will put out live cameras. We've already got some really good stuff."
Have you learned any interesting facts while preparing for the series?
CP: "I learned recently that moose, like otters, beavers and seals, have muscles in their nostrils. This means they can close them when they're feeding on plants that are underwater. As well as having a nose that can close, they also have the capacity to bite underwater without drowning – I'd no idea! Year after year timber rattlesnakes go back to the same dens in the Autumn, emerging again in the Spring. They will go back to exactly the same hole in the rock for 20 years!"
You're going on a road trip with Michaela through the New Hampshire countryside to find the best Autumn colours. Do you travel well together?
CP: "We've been travelling together for a long time and are quite good at it, I think. We enjoy each other's company and sharing experiences, but are also both good at doing our own thing. To be able to see the spectacle of Fall first-hand is going to be pretty special."
Finally, on a different note, you have just been shortlisted for the Favourite Presenter gong in the annual TV Times Awards…
CP: "It's very kind, and not really deserved. I've never tried to perfect the art of presenting, perhaps I should have done! I just try and espouse my passion for wildlife. I'm very flattered."
Autumnwatch New England is on BBC2, Monday to Thursday, next week at 8pm.
Get the latest updates, reviews and unmissable series to watch and more!
Thank you for signing up to Whattowatch. You will receive a verification email shortly.
There was a problem. Please refresh the page and try again.