Autumnwatch star Gillian Burke: 'I'd be ecstatic to see a rattlesnake!'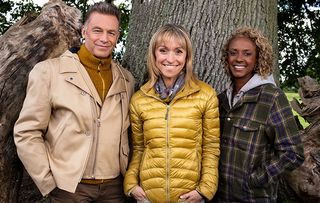 (Image credit: BBC)
Autumnwatch stars Michaela Strachan and Gillian Burke reveal their American wildlife wish list…
The BBC Watch Team swap old England for New England in a week-long special of Autumnwatch broadcast live from New Hampshire, America. It's got all the ingredients for a fantastic Fall, from the six billion trees that create a colour sensation visible from space, to an abundance of bears, moose and bobcats.
Presenters Chris Packham and Michaela Strachan are live from a traditional log cabin in the Squam Lake area, while co-presenter Gillian Burke goes further afield to get up close and personal with the region's nocturnal mammals, woodpeckers and bald eagles. As always, expect the unexpected from the Watch's network of hidden cameras.
We talked to Michaela and Gillian to find out what they're most excited about covering in Autumnwatch's American odyssey…
Gillian, what's on your Autumnwatch agenda?
Gillian: "Nocturnal mammal missions! It's an amazing opportunity to get into the detail of how moose and bears operate. But I'm really excited about my leaf litter mission [Gillian will be investigating the amphibians and insects that need this colourful carpet of leaves to survive]. I like getting down with the little things. I'm really excited by Red Efts – they have a really cool life cycle. I'd be ecstatic to see a rattlesnake too."
Michaela, what are you most looking forward to?
Michaela: "Sitting in a convertible car with Chris and going leaf-peeping! I'm really looking forward to the rich colours of the Fall. I'm going to be such a tourist! We go as naturalists but why not enjoy maple syrup and pumpkins along the way?"
What's on your wildlife wish list?
Michaela: "Moose - despite the fact they're huge animals they're very difficult to see in the wild. Bobcats - they're integrating in very built up areas. And a spectacle called a 'tornado of tree swallows' that's like our murmuration of starlings."
Are you worried about anything going wrong?
Michaela: "I hope we see the Fall in its full glory and not just one little leaf! When Chris and I did the cherry blossom special [in Japan], we got the spectacle on our last day of filming, and only because we took a bullet train to Tokyo and chased it!"
Gillian, you've been working on BBC Watches since 2017. What's surprised you most?
Gillian: "It's a boot camp in live presenting! When I first started I thought I'd be doing more pre-recorded pieces. I didn't think I'd be doing so much live. Every single night was a new experience.
"Live broadcasting is a strangely addictive experience! There's that element of not knowing what's going to happen. I look back and think, I can't believe I was live on a boat with a bucket of eels!"
Autumnwatch New England is on BBC2, Monday to Thursday, next week at 8pm.
Get the latest updates, reviews and unmissable series to watch and more!
Thank you for signing up to Whattowatch. You will receive a verification email shortly.
There was a problem. Please refresh the page and try again.