Christopher Eccleston: 'Swimming in the lakes for Safe House was exhilarating!'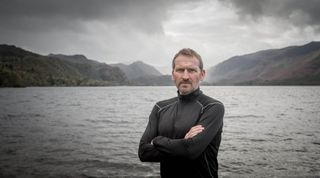 Christopher Eccleston has revealed how he prepared for his latest character by going for a swim.
In new four-part drama Safe House, the former Doctor Who star plays an ex-police detective, a tortured and injured soul who moves to the Lake District.
In an attempt to put his demons at bay, he takes to swimming in the lakes.
Christopher Eccleston as Robert in Safe House (Ben Blackall and John Rogers/ITV)
"I think if I was as severely traumatised as this character, I would definitely use nature and physical exercise," he said.
"I'm a runner and physical exercise is a big part of my own mental health. So I would do what Robert does if I had suffered that kind of trauma. I would relocate and work through it with physical exercise of some sort.
Christopher continued: "I had a real connection with him and his compulsion to swim."
The 51-year-old actor admitted the swims took some getting used to.
"I had to swim in Coniston Water once or twice and I was in Derwent Water three times… and it was very cold. I was in a wetsuit. Everybody who swims in there swims in a wetsuit unless it's the height of summer," he said.
"I was probably in the water for maybe half an hour, 45 minutes for each sequence. The swimming scenes were not the greatest thing to contemplate the night before.
"But to actually do them was wonderful. Exhilarating. So when they put me in the box, I can say, 'Well, I did that'."
Safe House begins at 9.00pm on ITV on Monday 20 April at 9.00pm.
Get the latest updates, reviews and unmissable series to watch and more!
Thank you for signing up to Whattowatch. You will receive a verification email shortly.
There was a problem. Please refresh the page and try again.