Citizen Khan's Adil Ray discovers his royal blood in Who Do You Think You Are?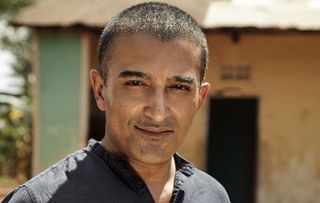 (Image credit: BBC/Wall to Wall Media Ltd/Mike)
Citizen Khan and Ackley Bridge star Adil Ray reveals his pleasant surprise at learning he's descended from African royalty…
When Citizen Khan and Ackley Bridge star Adil Ray delves into his family's past in the next Who Do You Think You Are? he makes a surprising discovery that he's part Ugandan. Not only that, but he's royalty, too!
What's On TV spoke to the 43-year-old about his family's fascinating past…
What made you want to take part in the series? "I've always been a big fan of the show and I was proud of my family background, both from my father's and my mother's side. My father came over from Pakistan in the 1960s and my mum's mum – Aisha – was actually African. It was just a real desire to try to find out a little bit more about her."
You discovered your grandmother (below) had married your grandfather when she was just 13. Tell us about that… "Her story was that she was from a Ugandan family and then had to marry an Indian guy who lived in Kenya aged just 13. She became the stepmother of seven children from his previous marriage, which in itself was tremendously hard, but to do that at 13 – it's very young! To cross cultures like that was also really hard for her."
You learned she received a lot of prejudice from the Indian community in Kenya. How did that make you feel? "It was really tough. We were close when I was growing up. She was the matriarch of the family and a real inspiration to us all. I think I learned to understand a bit more about her background and where she came from. Her childhood was taken away from her – she married young and in difficult circumstances, but she managed to carry on with incredible dignity."
What was it like travelling to Uganda and meeting your distant cousins Sarah and Yudaya? "It was amazing! When I went to their house, I could feel the same love I used to get from my grandmother. I'm now planning a big family trip to Uganda next year because I want everyone to meet them – they're new members of the family that we can welcome into our lives. It's such an honour and a privilege to be in that situation."
Your cousins also told you that you're descended from Ugandan royalty. Did that come as a shock to you? "Yeah, I had absolutely no idea! I heard my mum mention a few times that we were related to the Kabaka, Ugandan royalty from the kingdom of Buganda, but the fact that nobody ever mentioned it was because nobody ever really believed it! But as it transpires my great great great grandfather Kamanyiro Magimbi was a chieftain and his sister was the mother of King Muteesa I of Buganda! And he wasn't just any chief either, but a pretty amazing man who stood up to the English explorers. In the end he didn't succeed, but I thought it was pretty incredible."
Will having royal status change you? "No I don't think so, although it's one thing saying you've got African blood and quite another to say you're part of the Ugandan royal family! But I can't wait for my family to watch the show and know more about their heritage. I haven't even told my mum much about it because I want her to watch it! She was a little bit nervous about what I'd find out, but I've reassured her. I think she's going to absolutely love it."
What would happen if your alter ego Mr Khan took part in Who Do You Think You Are? "I think he'd find out he was actually Indian, which wouldn't sit well with him, so it's probably best that he's never invited to do the show."
You've been starring as wealthy businessman Sadiq Nawaz in Ackley Bridge, which has become one of the most talked about shows this year. Are you excited about a second series? "Really excited. It was such a departure from doing something like Citizen Khan because I'm involved in every single element of that show, whereas with Ackley Bridge I just turn up, do my lines and go back to my hotel! So it's been quite refreshing in that sense. It was also a real challenge for me and I'm thankful for that. I'm just really glad to be a part of it!"
Would you like to do more serious drama? "I would, I really enjoy it! I want Peaky Blinders to fast forward in years to when the first Pakistani arrives in Birmingham – I'm waiting for that moment!"
Interview by Hannah Davies
Who Do You Think You Are? screens on Thursday, July 27 at 9pm on BBC1
Caren has been a journalist specializing in TV for almost two decades and is a Senior Features Writer for TV Times, TV & Satellite Week and What's On TV magazines and she also writes for What to Watch.
Over the years, she has spent many a day in a muddy field or an on-set catering bus chatting to numerous stars on location including the likes of Olivia Colman, David Tennant, Suranne Jones, Jamie Dornan, Dame Judi Dench and Sir Derek Jacobi as well as Hollywood actors such as Glenn Close and Kiefer Sutherland.
Caren will happily sit down and watch any kind of telly (well, maybe not sci-fi!), but she particularly loves period dramas like Call the Midwife, Downton Abbey and The Crown and she's also a big fan of juicy crime thrillers from Line of Duty to Poirot.
In her spare time, Caren enjoys going to the cinema and theatre or curling up with a good book.
Get the latest updates, reviews and unmissable series to watch and more!
Thank you for signing up to Whattowatch. You will receive a verification email shortly.
There was a problem. Please refresh the page and try again.