Coronation Street fans think killer Stephen has chosen his next victim - and it's not Carla!
Coronation Street viewers think someone needs to watch their back!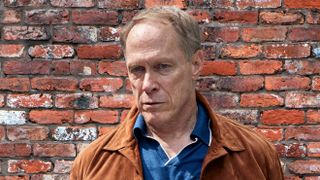 (Image credit: ITV)
Coronation Street fans have been waiting for Stephen Reid, the latest killer to stalk the cobbles, to murder again.
And it seems his next victim might be in his sights.
But despite him waging a campaign to undermine poor Carla Barlow by drugging her coffee with LSD every chance he gets, the viewers don't think she's going to be his next kill.
Instead they reckon sleazy Rufus, a business associate of the Underworld team, could be Stephen's victim.
In last night's episode, Stephen was humiliated by Carla at a meeting with the US distributors for Nippersnapper.
With Stephen trying to get a foothold in Underworld and Carla determined to assert her authority, there was a passive aggressive power struggle at the meeting until Carla called Stephen a glorified work experience boy.
Fuming inwardly, Stephen headed off to make the teas and coffees and dumped an extra large dose of LSD into Carla's mug.
As the - successful - meeting drew to a close, Carla began talking strangely and became paranoid and unable to walk.
Sally went to fetch Peter, and together he and Stephen took Carla home with Stephen convincing Mr Barlow that stress is to blame for his wife's 'lapses'.
But later in the pub, Stephen met Rufus - the slimy businessman who provided the LSD in the first place. Stephen had called him wanting to buy more.
Rufus was disbelieving when Stephen said he was using the drug himself and after hearing about what had happened to Carla, he put two and two together and realised what Stephen was doing.
Now Rufus is on to him, though, many Corrie fans think he's going to have to be careful.
After all, look what happened to Leo and Teddy when they worked out that Stephen was up to no good.
They ended up dead!
Coronation Street viewers are convinced that Rufus will be Stephen's next victim.
"So what are the chances of Rufus surviving the week?" asked one fan.
While another mused: "Number 3 Stephen?", and added a gif of a glowering Wednesday Addams!
In fact, they've even joked about him ending up in a wheelie bin, just like poor Leo!
Will Rufus make it out of Weatherfield alive? We'll have to wait and see!
Coronation Street usually airs on Monday, Wednesday and Friday at 8pm. Check our TV Guide for more information
Get the What to Watch Newsletter
The latest updates, reviews and unmissable series to watch and more!
Kerry is a writer, author and editor with a lifelong love of the soaps, a passion for TV drama of all kinds, and an obsessive devotion to Strictly Come Dancing.
She was features editor of All About Soap magazine for more than a decade, covering every bit of excitement from all the UK soaps and the Aussies and still writes about all the juiciest gossip from the Street, the Square and the Dales whenever she can.
Kerry's also an author of historical fiction, and her two jobs collided when she got the chance to write two novels based on Emmerdale, and the Sugden, Tate and Dingle families, during WW2.