Coronation Street star Mikey North: Why I decided to overcome my biggest phobia on national television!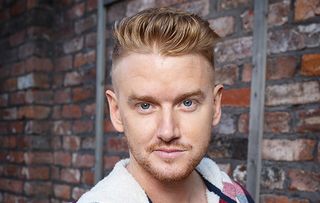 (Image credit: Mark Bruce)
Mikey North swaps the cobbles for cars as he learns to drive on the new series of All Star Driving School next week, and tells us why his driving test was scarier than filming live episodes of Coronation Street... written by Claire Crick
You might think that being on the longest-running UK soap since 2008, Coronation Street star Mikey North would be used to spending his time in front of a camera.
But according to Mikey, learning to drive at the age of 31 in front of the nation is an entirely different experience to playing Weatherfields' Gary Windass…
This is a whole different side of you that fans won't have seen before…
Mikey North: "It's my first venture away from acting and it's been great, it really was the best experience I have ever had. It was such an emotional week, I'm sure you will see when you watch it. I had a great time and bought away some amazing experiences."
Were you nervous about it?
MN: "Absolutely terrified! When I was 17 I moved to London and I didn't need to drive, and now I'm 31 and get stick from my friends. It's become a bit of a phobia of mine, and so for some stupid reason I thought: 'let's go on national television and learn how to drive in front of everyone!'."
What made you want to learn to drive?
MN: "I did it for my little boy, who is almost two, and also for my wife. She's sick of ferrying me everywhere to be honest. If I pass it will open up a whole new world for me, everyone has always told me that it will be life-changing."
How have you managed without driving so far?
MN: "Taxis! Uber is going to go out of business if I pass. I used to live opposite the studios at work and so that was easy enough. I purposely moved to the closest possible flat to the entrance of the studio and it was a 7 second walk to work!"
What was the hardest thing about learning to drive?
MN: "Manoeuvres were tricky, but also the test was the most nervous I have ever been, and that includes doing live episodes on Corrie! I was stupidly nervous, as you will see on the show I was terrified and that may have counted against me."
How did you fit it around filming Corrie?
MN: "After a really busy year I've had some time off and so it was the perfect opportunity for me to learn to drive! I'd finished bringing Pat Phelan down, and went off to learn to drive! Although the latter was much harder, I can tell you!"
All Star Driving School will be shown on weeknights from Monday 3rd Sept at 7.30pm on E4
Get the latest updates, reviews and unmissable series to watch and more!
Thank you for signing up to Whattowatch. You will receive a verification email shortly.
There was a problem. Please refresh the page and try again.