Coronation Street star Simon Gregson: Steve and Leanne must be good in bed together!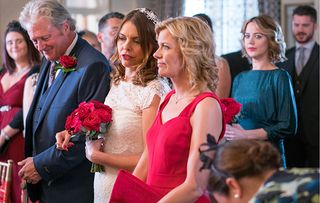 (Image credit: Andrew Boyce)
Simon reckons Steve and Leanne are 'friends with benefits'
Coronation Street star Simon Gregson reckons the reason Steve McDonald and his ex Leanne Battersby keep hooking is "good sex!"
Steve is now desperately trying to keep his latest liaison with Leanne a secret as he prepares to wed Tracy Barlow – his 7th wedding!
So, what is it about Steve and Leanne?
"I don't know, I think they just have good sex when they are drunk, it is friends with benefits," reveals Simon, 44.
Despite all the evidence to the contrary, Simon really does believe that marrying Tracy is what Steve really wants.
"Sleeping with Leanne confirmed to him that he does love Tracy and when he thought she might find out about Leanne and that he might lose her he realised that he didn't have doubts any more, she is the woman he wants to marry. Steve does everything the wrong way to get to the right way!"
And Simon says Steve is confident he can get away with his cheating.
"He genuinely believes that if Leanne keeps her mouth shut then yes he can. Tim would never say anything and even Peter thinks Tracy is a bit bonkers and although he is her brother he has more loyalty to Steve. And Steve has kept secrets for him in the past."
While Steve seems to love a wedding judging by his past record, Simon admits that he isn't such a big fan!
"Well this is his seventh wedding but only his fifth wife as he married Karen and Tracy twice. The irony is I hate filming weddings! It is a nightmare as they take days out on location and have a cast of thousands.
"Fortunately for this one they built the hotel set on site so it made things a bit easier, it was fun to film, as you can imagine it doesn't go quite to plan."
Unfortunately for Simon, he can imagine Steve being on his 10th wedding in 20 years time!
"I can't see why not, the first 30 years have gone in a flash so I would be very happy to stay and see Steve through to old age!"
Coronation Street continues on ITV.
Get the latest updates, reviews and unmissable series to watch and more!
Thank you for signing up to Whattowatch. You will receive a verification email shortly.
There was a problem. Please refresh the page and try again.