Coronation Street's Claire King reveals she would consider euthanasia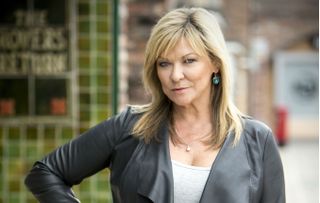 Corrie's Claire King has revealed she would consider euthanasia as she does not want to "become a burden" in later life.
Coronation Street actress Claire King has revealed how ill health and caring for her disabled parents has left her considering euthanasia.
In an interview with the Sunday Mirror, Claire, 54, admitted she worries about "becoming a burden" on other people after being diagnosed with rheumatoid arthritis.
She said: "I do worry about when I'm older and becoming a burden on people around me.
"I can understand why people choose assisted dying – and it's getting to the point where I would consider it myself. I'm not going to be hurting any offspring as I haven't got any.
"Most of my family will be gone. It's not a selfish thing. It's a decision at a certain age, when you're becoming a burden to others."
Claire and her brother Piers, 52, help care for their parents, who are both disabled.
Dad John, 77, was diagnosed with multiple sclerosis in his late twenties, while mum Angela, also 77, has had severe back problems and rheumatoid arthritis since her children were young.
Claire developed rheumatoid arthritis, like her mum, in the early 90s. She has had joints removed and plates put in her fingers. She had a hysterectomy in 2010 and was left with tinnitus and facial paralysis after having shingles.
"I'm falling to bits really," she joked.
Claire also said carers have been let down by the Government and need more cash, support and understanding.
The confessions come as no shock from the actress who has always been candid about her life.
Claire previously revealed on Loose Women that she has had a string of stalkers throughout her career.
Discussing fame, she said: "There is that downside; stalkers, which I used to have a few, but I've got one at the moment which has been going on for a few months.
"I had quite a few when I was in Emmerdale and in Bad Girls. Well, I've had them most of my life actually."
Get the What to Watch Newsletter
The latest updates, reviews and unmissable series to watch and more!