Couch Potato Pickings: Another Year - Do you have a Mary in your life?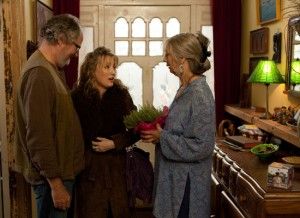 Someone who:
...often outstays her welcome
...never invites you to her place and rarely asks you about yourself and your life.
...often drinks a little too much, and possibly smokes too.
...becomes overly tactile when drunk.
...is overly critical of others.
... takes a lot of pride in her appearance and needs frequent verification that she looks younger than she is.
...is often very insensitive to others feelings or needs.
... seems to be plagued by an endless catalogue of disasters.
... can become rather obtuse when she feels undermined or threatened.
... hates this film.
If you can answer yes to at least five of these characteristics, then you have a Mary in your life.
By that I mean the lead character in Mike Leigh's Another Year - a lonely, unhappy middle-aged woman who tests the patience of her friends Tom (Jim Broadbent) and Gerri (Ruth Sheen) over the course of a year.
Lesley Manville's Mary is the type of person who is desperate for someone to step in and rescue her from her miserable existence.
But, as anyone who's been there knows, you have to take responsibility for your own actions.
What I love about this film is just how well-observed it is. The Mary in my life hates it.
Discuss this film on our Movie Talk Facebook page or Twitter stream
Another Year is released on DVD by Momentum Pictures. You can also view it on demand on Filmflex, and today (Sunday 20th March) is the last day to catch it on Sky Movies Box Office.
Get the What to Watch Newsletter
The latest updates, reviews and unmissable series to watch and more!