Couch Potato Pickings | Grease - who is more attractive? 'New-to-school Sandy' or 'greaser-slut Sandy'?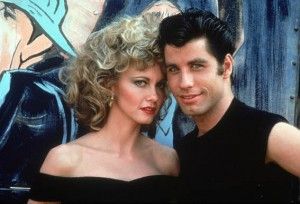 Last night after work my train was delayed so I was forced to spend a good 20 minutes waiting for the platform announcement. While standing in front of the departure board impatiently with sore feet (new boots), my very tired eyes were repeatedly distracted by the large pink poster advertising Grease the stage show (opens in new tab) - apparently 'it's the number one show in London'.
Grease is the word...
...is the word that you heard. It's got groove it's got meaning.
Anyone know what this actually means?
I know that the title 'Grease' refers to the oily greaser hairdos sported by all those 1950s youths as well as the oil and grease of their souped up cars, but why is grease the word? How does it have groove? What is its meaning?
The stage show poster displays lead character Danny with his greased up hairdo kneeling before a tight trousers-clad Sandy. I stared at it for quite a while - time always goes slower when you're waiting for a train. Needless to say, I had time to ponder on the image, and I realised for the first time since seeing the movie version over 30 years ago that this musical puts out a really bad message.
I was about nine when I first saw the movie. We'd gone down to 'London' for a few days to stay with family friends. It was Leighton Buzzard (opens in new tab) actually but when you're a kid from the north, London covers anywhere south of the midlands (what's wrong with that? London is the entirety of the UK in America).
While down south we all went off to see a brand new musical film at the cinema and I loved it. It was called Grease (opens in new tab), and it was all I could talk about on returning to my northern school. When the film reached our town's moviehouse, I was first in line to see it again. I developed a huge crush on Olivia Newton John (opens in new tab) and subsequently accumulated most of the Grease (opens in new tab) merchandise from posters to songbooks to badges and of course the soundtrack album.
Everyone knows the story... don't they? On holiday in 1950s California, an Australian teenager meets a local boy (John Travolta (opens in new tab)), and it's love at first sight. But when she enrols at her boyfriend's high school, he reverts to playing it cool as the leather-clad, tough-talking leader of the T-Birds gang...
Being a kid, it was the all-singing, all dancing fun of this movie that won me over (well, that and Olivia), so it didn't matter so much that I hadn't fully understood the finer sexual nuances of the story such as Rizzo (opens in new tab)'s teasing of Sandy for being a virgin, or her concerns over her own colourful lovelife.
http://www.youtube.com/watch?v=HGLxJRq-jIY&fs=1
In my innocent eyes, the story was about Sandy and Danny. She was a nice pretty girl and he was a mean boy for treating her badly.
I kind of understood that Danny was a victim of peer pressure and wanted to be with her really, so I was pleased to see them get together at the end. However, I didn't think much of Sandy's end of movie makeover. I preferred 'new-to-school Sandy to greaser-slut Sandy', as Finn (opens in new tab) from Glee (opens in new tab) puts it when Rachel attempts to dress as Sandy to try and seduce him.
And this is where this movie bothers me. Think about it - what is the message that this makeover ending puts out?
If your summer sweetheart turns into a swine in front of his mates and dumps you for being too wholesome, then don't stand up for yourself and accuse him of being a weak coward. No, get your friends to sew you into the tightest pair of satin trousers you can find, stick some 6 inch stilettoes onto your toes, ruin your hair with a bad perm, cake on the make-up and take up smoking, then you'll be the one that he wants (ooh ooh ooh) and you'll be together (like sha na na na na na na na yippity dip da dona ) and live happily ever after.
Grease (opens in new tab) is showing on Film 4 today 8th October at 6.50pm
New-to-school Sandy or greaser-slut Sandy, which version do you prefer?
Get the latest updates, reviews and unmissable series to watch and more!
Thank you for signing up to Whattowatch. You will receive a verification email shortly.
There was a problem. Please refresh the page and try again.