Couch Potato Pickings | Sweeney Todd - The Demon Barber of Fleet St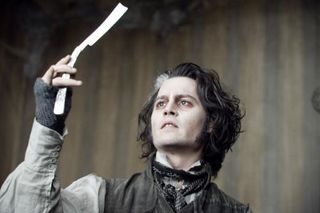 Was Sweeney Todd a fictional character?
I always thought so but apparently he may have been real. Now that's a stomach-churning thought isn't it if you 're familiar with his story. So what do you think? Was Todd real or made up?
If you're anywhere near London you can check out the alleged sites of Todd's Fleet Street barber's shop and Mrs Lovett's nearby pie shop. Click here for the Sweeney Todd audiowalk. Maybe seeing and hearing about these locations in the flesh might help you make up your mind about this urban legend.
There is, however, no confusion between fantasy and reality in Tim Burton's version of the demon barber's tale, showing today at on Sky Movies Premiere at 10pm. With its distinctive visual style, its over-the-top characters and the fact that everyone's bursting into song every five minutes, there's no doubt that this is fantasy.
Marvellously menacing and gloriously gruesome, this cinematic adaptation of the Stephen Sondheim musical displays everything that's wonderful about Tim Burton movies and won an Oscar for Art Direction. Against the largely red, black and grey colour palette of the spectacular sets, the wonderfully quirky Johnny Depp and Helena Bonham Carter present the macabre story of the vengeful barber and his pie-making partner in crime.
Many people are put off by the musical nature of this film, but I think it's essential. It adds yet another texture and, by taking the action clearly into the theatrical, it cleverly takes the edge off the inflated horror. And yes the blood and gore is larger than life. You'll be covering both your eyes and your ears.
There are so many great scenes in this film that the memory's left with a wonderfully colourful scrapbook. My favourite has to be Mrs Lovett singing about the worst pies in London.
http://www.youtube.com/watch?v=E305bcG5JNU&fs=1
After watching that, it amuses me to think that I used to eat regularly at a restaurant called Sweeney Todd's in Oxford in the late 1980s without giving it a second thought.
Showing on Sky Movies Premiere tonight at 10pm
Get the latest updates, reviews and unmissable series to watch and more!
Thank you for signing up to Whattowatch. You will receive a verification email shortly.
There was a problem. Please refresh the page and try again.