Couch Potato's Top 10 Country Music Movies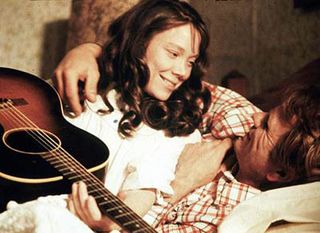 As promised - with Wednesday's country-themed Name That Chest to mark the UK release of Country Strong this weekend - here is my Top 10 of country music movies:
By the way, I'm leaving Country Strong out of this list, since I haven't seen it yet:
Number One: Coal Miner's Daughter
Sissy Spacek won an Oscar for her portrayal of Kentucky girl Loretta Lynn and her famous rags to riches story.
Number Two: Sweet Dreams
Before her premature death, poor Patsy Cline worried about an early demise, and when she was badly injured in a car crash shortly after releasing her song I Fall to Pieces she joked about what might happen to her following her next single – Crazy. Jessica Lange was Oscar-nominated for her role in this biopic.
Number Three: Walk the Line
Joaquin Phoenix and Reese Witherspoon are fabulous as Johnny Cash and June Carter in this award-winning movie.
Number Four: Crazy Heart
Jeff Bridges won an Oscar for his performance in this music drama about a hard-living country singer who tries to turn his life around after meeting a young single mother. Maggie Gyllenhaal co-stars.
Number Five: Nashville
This drama is all very Robert Altman - episodal, with multiple storylines and an improvised feel, providing a window on a place and an era (the 1970s to be precise). It depicts the country music industry and also presents a picture of US politics at the time.
Number Six: Shut Up and Sing
When Natalie Maines from Texan trio The Dixie Chicks spoke out against George Bush at a gig in London's Shepherd's Bush a few years ago, she received death threats from people in certain US states. This documentary charts the band's emotional journey through this difficult phase in their career.
Make sure to catch Gwyneth Paltrow singing the Dixie Chicks' version of Stevie Nicks's Landslide with Brittany and Santana on Glee in a few weeks time.
And how can I mention the Dixie Chicks without mentioning the hilarious video for their song Goodbye Earl - which stars Jane Krakowski, Lauren Holly, Michael Deloise and Adrian Pasdar. So cheeky, so controversial. Check it out.
Number Seven: Down From the Mountain
This Bluegrass band documentary was inspired by the Coen brothers' film O Brother, Where Art Thou. The musicians who recorded songs for the film's soundtrack are filmed rehearsing for and performing in a Nashville concert, and it features performances from country greats such as Emmylou Harris and Alison Krauss.
Number Eight: Honkytonk Man
Clint Eastwood stars as a hard-drinking 1930s country musician travelling with his admiring young nephew to Nashville's Grand Ole Opry. Eastwood also directed.
Number Nine: Love Can Build a Bridge
It's a TV movie, but an interesting look at mother and daughter duo Wynonna and Naomi Judd (Naomi is Ashley's mum) who were huge in the 80s.
Number Ten: Rhinestone
A country and western star bets that she can turn a loud-mouthed Brooklyn cab driver into a singer in two weeks. It doesn't matter that it's not the greatest film in the world - it stars Dolly Parton so belongs in my Top ten. Sly Stallone co-stars.
Awaiting a Place in my Top 10: Wish Me Away
It's not even been world premiered yet, but I'm eager to see singer Chely Wright http://youtube.com/v/wigKTp9oxxA Movie Talk Facebook page or Movie Talk Twitter stream
Get the What to Watch Newsletter
The latest updates, reviews and unmissable series to watch and more!