Couch Potato's Tuesday Trivia: Armageddon and its role in NASA's training programme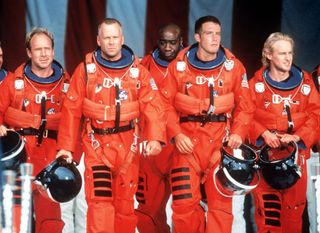 So, the last American space shuttle mission was launched on Friday - the end of an era.
And perhaps this is enough of a reason to check out Armageddon tonight, the 1998 blockbuster in which NASA launch two space shuttle missions to intercept imminent disaster.
In this action adventure, a Texas-sized asteroid is heading ominously towards Earth. It needs to be destroyed before it decimates the planet, so NASA scientists contact Bruce Willis's expert oil driller Harry to plant an explosive device deep within the rock. He agrees to take on the challenge, but only on the condition that his ragtag crew of roughnecks accompany him.
It's not a particularly brilliant action flick, but this didn't stop Armageddon from reportedly earning itself a place on NASA's management training programme.
Why?
Well, this movie apparently contains over 186 things that are scientifically impossible. For this reason, the film presents a very effective (and no doubt entertaining) exercise for prospective managers in identifying these numerous inaccuracies.
Armageddon is showing tonight - Tuesday 12th July - on Sky 1 at 9pm
Discuss this film on our Movie Talk Facebook page or Movie Talk Twitter stream
Get the What to Watch Newsletter
The latest updates, reviews and unmissable series to watch and more!