Craig Revel Horwood's thrilling discovery on WDYTYA: 'Performance is in my blood!'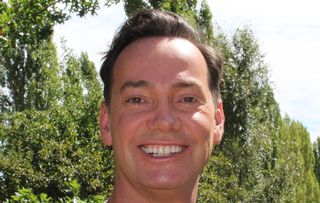 (Image credit: BBC/Wall to Wall/Jessie Potts)
Strictly judge Craig Revel Horwood reveals his delight at discovering that he's not the first dancer in his family
Craig Revel Horwood always thought he was the only member of his family to have tripped the light fantastic. But in the next Who Do You Think You Are? he discovers that his great-great grandfather Harry Macklin Shaw was the champion clog dancer of Australasia in the 1870s.
Here, Craig tells TV Times about his twinkle-toed ancestor and how he has missed out on a family fortune…
Why did you want to take part? "Because I knew nothing about my family history. As a professional dancer, what they call a dance gypsy, you're constantly travelling around, you don't have any ties, you feel alone and never really know where you are from. So I wanted to do it because I've settled down now, and I wanted to find out why I've felt at home from the moment I stepped onto British soil. I discovered that I'm from Essex darling! I was shocked because if I'd known before, I could have got a part in TOWIE!"
We'd love to see that! What else did you want to find out? "Well, I found a passion for dance when I was young, but I couldn't understand why, because it's unusual for a teenage boy from Ballarat as Australia is quite butch. It wasn't the done thing there to put on ballet tights and tap dance; it's like a Billy Elliot story. My paternal grandfather Revel, who we called Moza, clowned around and my mum, Beverley, was a hoofer back in the day in an amateur group called The Sunshine Girls, but I thought I was the only one that really had showbiz blood and I wanted to know why."
How did you feel when you learned that your great-great grandfather Harry (pictured) was a champion clog dancer? "It was wonderful! He used to challenge people to a dance-off and he'd get up and give it a bit of clog work and became the champion. Now I feel that it's in our blood and performance has run down the generations. Harry came from the mills in Greater Manchester and went to Australia to find out who he was and find his fortune and I've done the same in reverse by coming to the UK. I wish I could tell him what I have done."
You had a go at clog-dancing on the show, was it tricky? "I've never clogged before in my life and the shoes were extremely heavy, but I did get into it and I've kept the clogs and I've also got some fake sheep in my garden now to pay homage to the fact that Harry worked on a sheep station in Australia."
What was it like to find out about your paternal great-great-great grandfather, Charles Tinworth, who was part of the 19th century Australian gold rush? "The suffering the family went through was heartbreaking. They came over from Essex and mined and panned for gold hoping to find the magic nugget that would change their life, but you forget about the hardships there, their hospitals were literally a tent. But I feel my family gave me so much through all their hard work and I'm here to continue that ambition."
The Tinworths did get rich eventually by discovering gold, but sadly the money only went to the boys in the family and not your great-grandmother Lizzie Tinworth. Were you upset?! "It was devastating! If the law had been different darling, old Lizzie would've been rich and I could've had pools and mansions! At least there was money in the family, although I didn't get any of it."
You knew that your paternal great-great grandfather Moses Horwood was a convict. Were you nervous about what you'd discover? "I was just worried about what he had done! Was it going to be murder? But it turned out he stole some money and jewels from a hotel and he was sent off to Australia and started a new life in Ballarat after serving his sentence. Eventually I discovered that half the family were convicts, but the other half like Harry and Charles just went to Australia for a better life."
In the show, you visit your 100-year-old paternal grandmother Phyllis, who you call Phonse. How amazing is she?! "It was great to see her because she is the kindest, funniest person; she is absolutely brilliant. In February, when she turned 100, I couldn't go out there because I was doing the Strictly Come Dancing live tour, but on my phone I recorded the whole audience in the Manchester Arena singing Happy Birthday to her on my phone, which was fantastic and she cried, so I felt like I was there."
Your dad Phil passed away in 2015 – did that spur you on to find out more about your family? "Yes, it is terrible that it takes a death for you to wonder about all the things you wished you had asked. I am hoping that the programme will make people speak to their elderly relatives about their lives and find out more about themselves too because you learn about yourself by looking back to the past. Knowing where you come from is vital and I'm leaving that legacy for the next generation."
After all your usual tetchiness on Strictly, we've loved seeing you smile so much on Who Do you Think You Are? Is this the new Craig?! "Oh, I was just loving the discovery. Every day I found out something new and texted my mum about it. I can't wait to get the information pack with all the rest of the stuff they dug up so that I can continue the search."
Who Do You Think You Are? screens on Thursday, July 13 on BBC1 at 9pm
Get the latest updates, reviews and unmissable series to watch and more!
Caren has been a journalist specializing in TV for almost two decades and is a Senior Features Writer for TV Times, TV & Satellite Week and What's On TV magazines and she also writes for What to Watch.
Over the years, she has spent many a day in a muddy field or an on-set catering bus chatting to numerous stars on location including the likes of Olivia Colman, David Tennant, Suranne Jones, Jamie Dornan, Dame Judi Dench and Sir Derek Jacobi as well as Hollywood actors such as Glenn Close and Kiefer Sutherland.
Caren will happily sit down and watch any kind of telly (well, maybe not sci-fi!), but she particularly loves period dramas like Call the Midwife, Downton Abbey and The Crown and she's also a big fan of juicy crime thrillers from Line of Duty to Poirot.
In her spare time, Caren enjoys going to the cinema and theatre or curling up with a good book.
Thank you for signing up to Whattowatch. You will receive a verification email shortly.
There was a problem. Please refresh the page and try again.