Curse of the Werewolf (1960) | Blu-ray - Oliver Reed bares his teeth in the Hammer horror favourite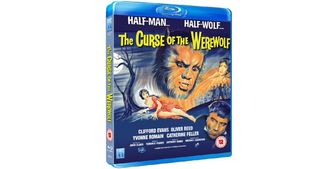 Following their full-blooded Frankenstein, Dracula and the Mummy box-office hits, Hammer turned to Guy Endore's novel The Werewolf of Paris for their next creature feature, 1961's The Curse of the Werewolf.
In 18th century Spain, a mute servant girl (Yvonne Romain) is raped in dungeons of a debauched marquis, escapes and then attempts suicide. Rescued by a kindly professor (Clifford Evans), she dies giving birth on Christmas Day to boy, who turns out to be a werewolf. Unaware of his 'curse', little Leon grows up to become a fine young man (Oliver Reed), but when his heart is broken, the monster within breaks out in vengeful fury…
Producer Anthony Hinds wrote a screenplay (under the pen name of John Elder) filled with romance and tragedy, but also touching on patriarchal perversity, while director Terence Fisher was given full reign to bring the evocative two-part story to the screen. In his first credited screen appearance, Oliver Reed makes a splendid debut, bringing both sensitivity and terrifying aggression to the role of the confused, tortured Leon, while Roy Ashton's excellent make-up, involving lots of yak hair, helps to emphasis Reed's famously brutish, brooding features (although he looks way sexier minus the prosthetics).
While it remains one of Hammer's best features, the box-office returns were not sufficient enough to warrant another werewolf project. Interestingly the film's action is set in Spain only because Hammer had built some sets for an unrealised film about the Spanish Inquisition.
Presented in Blu-ray, this Final Cut Entertainment release includes the following extras:
• Censoring the Werewolf: A new 13-minute documentary directed by Hammer Films historian Marcus Hearn.
• The Making of Curse of the Werewolf: Which includes interviews with actresses Catherine Feller and Yvonne Romain, and art director Don Mingaye.
• Lycanthropy: The Beast in All of Us: featurette
• Stills Gallery
Get the latest updates, reviews and unmissable series to watch and more!
Thank you for signing up to Whattowatch. You will receive a verification email shortly.
There was a problem. Please refresh the page and try again.