Dara on Blockbusters: 'Don't ask me for a P!'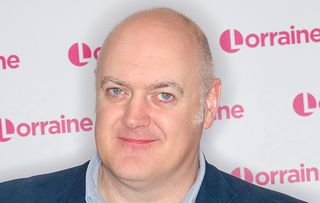 (Image credit: S Meddle/ITV/REX/Shutterstock)
Dara on the return on the classic quiz...
Comedian, stargazer and all-round nice guy Dara O' Briain is rebooting a British classic: Blockbusters.
Yes, the hexagon-loving quiz is back with a new host but the same heady mix of mascots and gold runs, Dara's version is a feel-good throwback to the glory days of quizzing, when Tipping Point wasn't even a twinkle in a producer's eye…
Here, Dara, 47, reveals all about the refresh and tells us why there's one element of Blockbusters he really can't stand...
Were you a fan of the original series?
"Yes, I remember it being on at tea time with Bob asking the questions. Occasionally there would be an Irish person on it and that caused a ripple of excitement that they had made a foray into British telly!"
https://www.youtube.com/watch?v=Sckf2FXwdjs
Do you worry about being compared?
"Bob's last one was 1995, so there's a distance. Our version is more gag heavy but it's still a young person's quiz, it's really fun to film. It was more of a problem when I did Robot Wars because people had a much fresher memory and Craig Charles had hosted it in a very specific way.
"As a comic when you get asked to do a quiz show you think, 'Oh am I there now? When are the cruise ships and panto coming?!' Within the classic career arc of the comedian, the quiz show always appears at some point…"
What makes Blockbusters such a good quiz show?
"To be honest I think it's the simplicity of the show. Quizzes are required to have a mechanic these days – we can't just ask what the capital of Sweden is anymore, we have to have something complicated involving answers in a series of envelopes weighing different amounts!
"But Blockbusters is straight forward and ridiculously easy to play along with at home. Also I think there's something to be said for a show that was just pumped into peoples' houses five days a week for about 12 years!"
Would you be a good contestant?
"It depends who I would be up against and whether I'm a solo contestant or in the duo. There's definitely an advantage to being in a two, for all that you have to answer slightly more questions. There's a touch of strategy involved, but mainly general knowledge, which I'm alright with. I'd be better at the numbers game on Countdown.
"After we'd finished recording the series, someone bought me the original Blockbusters board game as a birthday gift, with a picture of Bob on the box. There are lots of plastic bits, and all the questions are 1980s trivia, like 'Who shot JR?'."
What would your mascot be?
"I've never understood them – who invests all of their luck in a mascot?! I think even on this show there are times when people just grab something as they're running out of the door of the house – this hat will be my mascot!"
The contestants are all 16-19, did you enjoy working with them?
"Yeah it was great because we tend to think of this generation in a relatively negative way. We stick them on a beach and tell them to fall in love with each other in a reality show or complain about them eating avocado on toast, but they were bright and lovely. At one stage one of them did a Rubik's cube while telling a joke and I thought, 'Bravo!'"
Are contestants still asking for a 'P'?
"Yes, but it's a thing I'm trying to stop – it's exactly as disappointing as I thought it would be. I like to think we've evolved as humanity to the point where we can stop laughing at pee jokes, so I would have expected a greater level of sophistication from people than applause every single time somebody said, 'Can I have a P please Dara?' Honestly, the Blockbusters format is eternal but that joke is of its time – I will never smile at it!"
Main pic: S Meddle/ITV/REX/Shutterstock
Get the latest updates, reviews and unmissable series to watch and more!
Thank you for signing up to Whattowatch. You will receive a verification email shortly.
There was a problem. Please refresh the page and try again.