Dave Myers: 'I missed my Hairy Biker mate Si King.'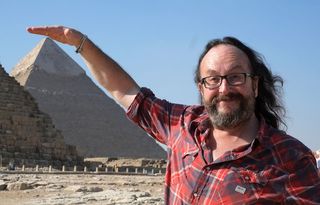 Dave Myers has revealed how travelling to Egypt without his Hairy Biker mate Si King was quite emotional.
The TV chef fulfilled his childhood dream to visit the African country for BBC2's new series A Cook Abroad, but had to do it solo after Si had a brain aneurysm last March.
"I usually go all over the world with Si, but he just wasn't ready for a trip like this. He needed to heal," he told TV Times.
"Thankfully, he's now back on form, but still needs to rest before coming back to work later this year. It was sad saying goodbye to him and going solo to Egypt," he added.
The show, which begins on 2 February, sees six TV chefs - Dave, Tony Singh, John Torode, Monica Galletti, Rachel Khoo and Rick Stein - jetting off to their dream destination to explore its food and culture.
"I've always been fascinated by Egypt - the tombs, the Nile, the pyramids and the stories behind them," he said. "I developed a love of Middle Eastern food and then discovered the Egyptians were the first people to live on bread.
"Everyone knows I love bread so that was it - I had a reason to visit Egypt and track down where baking all began.
"I feel I discovered hidden culinary gems in Egypt. Not only did I find the secret of the great falafel, I also tracked down the origins of our daily bread. I felt like Indiana Jones and the Lost Loaf!" he joked.
But Dave didn't forget Si on his travels.
"Kingy had given me a list including a camel, a rug and a mummy. I bartered to get him an interesting present but you'll have to watch to see what it is. It's a bit risque - something to hang his bagels on!" he said.
Watch Dave fulfil his boyhood dream in A Cook Abroad, BBC2, Monday 2 February.
Get the latest updates, reviews and unmissable series to watch and more!
Thank you for signing up to Whattowatch. You will receive a verification email shortly.
There was a problem. Please refresh the page and try again.