Sir David Attenborough on episode three of Blue Planet 2: Seven wonders of coral reefs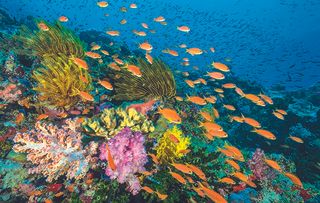 (Image credit: Alex Mustard)
Sir David Attenborough reveals the wonders of coral reef in Sunday's third episode of Blue Planet 2
Sunday's episode of Blue Planet 2 sees Sir David Attenborough profile the colourful and varied species that make their home in the world's coral reefs. Here are seven of his extraordinary discoveries…
1 Corals are animals that are similar to anemones. Although reefs cover less than 0.1% of the ocean floor, they provide a home to a quarter of all known marine species.
2. The saddleback clownfish lives inside carpet anemones. One male is shown hunting for an extra safe place for his mate to lay eggs. "The female can't lay eggs on the anemone's soft tentacles, so the male finds an empty coconut shell and pulls it back to the safety of the anemone," says Sir David. "He struggles but there's triumph on his little face."
Determined: The saddelback clownfish
3. Some fish use sign language to communicate. A coral grouper that's too big to catch smaller fish hiding in rocks is seen collaborating with the common octopus by going white and doing a headstand over the fish's location so that the octopus can help to flush it out.
4. The metre-long Bobbit hides in the sand to snare its prey, but monocle breams blow water on the sand to expose where the worm is lurking.
5. Adolescent bottle-nosed dolphins play together by dropping pieces of coral and catching them as they fall. This helps them to develop co-ordination when they hunt.
6. Footage from the air sees manta rays swarming together in large groups to create a 'cyclone' to help them suck in a glut of plankton.
7. Individual corals grow over thousands of years and collectively they have built the planet's largest living structure – the Great Barrier Reef in Australia. However, the gradual rise in temperatures in tropical waters causes algae in the coral's tissue to be ejected. Cameras show how, once it has lost this source of nutrition, the coral becomes bleached and dies. Half of the world's reefs have been affected by bleaching in recent years.
Blue Planet 2 continues on Sunday at 8.00pm on BBC1.
Get the latest updates, reviews and unmissable series to watch and more!
Thank you for signing up to Whattowatch. You will receive a verification email shortly.
There was a problem. Please refresh the page and try again.