First look image from new BBC1 David Attenborough wildlife series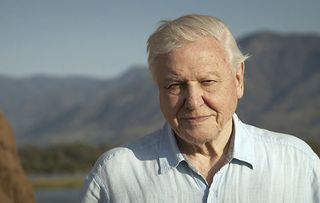 (Image credit: BBC NHU/Nick Lyons)
The 92-year-old star will be at the heart of an exciting new show
Following the success of Dynasties and Blue Planet II, Sir David Attenborough is to present a new landmark wildlife series for BBC1.
Our Planet, Seven Worlds will feature seven one-hour episodes, with each instalment taking viewers to a single continent as the makers tell the story of "its spectacular wildlife and iconic landscapes".
The series will reveal how each continent was shaped, explaining the unique characteristics of the continents and aiming to answer questions like why is Austalasia full of extremely venomous wildlife.
It also says it will show new animal behaviour from all the continents and highlight that there's a surprising amount of wildlife dramas hidden right alongside us in Europe.
The BBC also announced Winterwatch host Chris Packham will front a new series. Population with Chris Packham, to be shown on BBC2, will see the star looking at the question of the world's massive population growth. With forecasts suggesting we're heading for a world of 10 billion people, Chris ponders whether this figure is sustainable.
Chris, who recently spoke to us about Winterwatch, wonders whether for our own survival, is it time we stopped having so many children?
Meanwhile, Chris and the Springwatch team will be launching The Springwatch Year of Action, which will look at the threats to British wildlife.
Plus, in a further announcement, the BBC revealed that Liz Bonnin will present Meat: A Threat to Planet Earth. Liz will be seen investigating the true impact of meat consumption on the planet.
It's not yet been revealed when these shows will be screened by the BBC.
Get the latest updates, reviews and unmissable series to watch and more!
Thank you for signing up to Whattowatch. You will receive a verification email shortly.
There was a problem. Please refresh the page and try again.