David Walliams: 'The Boy in the Dress was my first story, but it was challenging to film'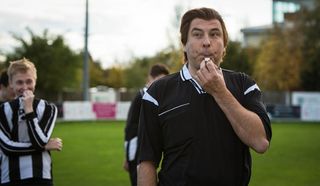 (Image credit: BBC/Jack Barnes)
TV Times (opens in new tab) talks to David Walliams (opens in new tab) about the television adaptation of his children's book, The Boy In The Dress, which screens on BBC1 on Boxing Day...
You wrote this book a while ago, but what made you decide to adapt it for television now?
"I wrote The Boy In The Dress six years ago, I was still doing Little Britain at the time. I just had this idea for a story about what would happen in the real world if a boy went to school dressed as a girl – how would everyone react? The story was received well and led to more books. But it was a tougher one to immediately film because, though it's a children's story, it deals with an adult theme – which is feeling different – and it's about a boy who puts on a dress, so it's more challenging."
How has the project been to work on so far?
"I'm pleased with the way it's working out with the script and the actors we've got. I love that we've brought together lots of different comedy actors – Tim (McInnerny) from Blackadder via French & Saunders with Jennifer (Saunders), by Goodness Gracious Me and The Kumars with Meera (Syal), right to the biggest comedy show of now – The Inbetweeners with James (Buckley)."
Kate Moss also has a cameo. What was she like to work with?
"I love the idea of Kate being on BBC1 at Christmas because it's unexpected. Last year we had Robbie Williams in Gangsta Granny, who was really funny. Once you've had a good cameo like that, you think, 'Who can we get next?!' Kate's good at thinking outside the box and doing things that will give her exposure to an audience beyond fashion magazines, which is probably why she's the most iconic model in the world."
You've had roles in TV adaptations of your books before. How did this one compare?
"I've only got a small role. It's nice to be in them. The Referee doesn't really feature in the book but we had this idea that he's actually a drama teacher who's filling in for the day. So we get some humour out of that and I basically do some camp running around the field!"
So far you've written six other children's books. Would you like them all to hit the small screen?
"One day it would be nice. A couple have been optioned as movies, which means you can't make them for TV, but we are going to do Billionaire Boy next Christmas. We're already thinking about the script."
What are your plans for Christmas?
"Christmas is fun, but I prefer the anticipation of it. I like going through London when the Christmas lights are on and everyone is excited. On Christmas Eve I sometimes go with my mum to a local church for the Nativity Service, which I like, and there's a real donkey outside which you can pet. But I've had enough by Boxing Day and I'm ready to move on to Easter eggs!"
What will be on telly in the Walliams household this Christmas?
"I love Miranda Hart's show and I'll watch Esio Trot (a BBC1 adaptation of the Roald Dahl book). I went on set as I know the producer and being a massive Roald Dahl fan, I was in heaven. I used to watch EastEnders at Christmas, but it was always very depressing. I remember watching Arthur Fowler smashing up the Christmas tree and thinking, 'Blimey! Happy Christmas.'"
This year you've also written and starred in the second series of Big School and been a judge on Britain's Got Talent, plus you're currently filming the Agatha Christie thriller Partners in Crime. Has it been difficult having such a hectic schedule?
"It's hard, you know, but if you want to have success, then you've got to work really hard and it's lovely to have all these opportunities."
Thank you for signing up to Whattowatch. You will receive a verification email shortly.
There was a problem. Please refresh the page and try again.