Death in Paradise star Ardal O' Hanlon: 'How do we replace Danny John Jules?'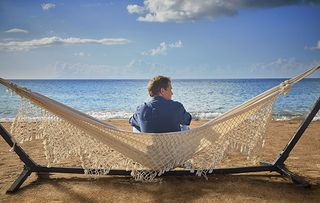 (Image credit: BBC/Red Planet Pictures/Denis Gu)
The Death in Paradise star on cast changes and how long he plans to lead the hit show, which returns tonight on BBC1
When TV Times jetted off to the stunning Caribbean islands of Guadeloupe to visit the stars of Death in Paradise, we pictured ourselves chatting to Ardal O'Hanlon over cocktails on a beachside veranda. What we didn't imagine, was huddling beneath a canopy with him during a humid rain shower, while producers chased away noisy chickens. Even paradise has its unglamorous moments!
Still, nothing could dampen our enthusiasm for the hit whodunit show, now entering its eighth series. After witnessing the overwhelming natural beauty of the island and visiting Jack's famous beach shack overlooking the ocean, a bit of drizzle doesn't leave us feeling too hard done by.
Taking a break from shooting scenes in the famous police station, Death in Paradise star Ardal reveals the relentless heat does take its toll, but he's still thrilled to be doing the most envied job on television…
How was filming today?
Ardal O'Hanlon: "Working in the police station is always exhausting as it gets very hot in there and I'm in every scene, but they're really good to us. We have big industrial fans and the make up department have these leather chamois cloths that they dip in ice and wrap round you when you step off set.
"Other than that you drink plenty of water, eat lots of fruit and hide in the corner whenever you can. Luckily I'm not sweaty so they don't have to bring multiples of the same shirt. It's the only reason I was cast in the role – other actors would do a better job but they sweat too much."
What can you tell us about the new series of Death in Paradise which starts tonight on BBC1?
Ardal: "There will be the occasional murder, it's our speciality! There's one on a bus, which is quite fun, there were only four other people on there, so which one of them did it and how did nobody see? It is very plausible as you can imagine… They've tried to use some new iconic locations too. There's a story involving a TV crew who come here to make a holiday programme and kill the presenter, which is a bit meta, and a murder at a zoo. The zoo on Guadeloupe is absolutely spectacular, with a skywalk high up in the rainforest. I filmed a scene interviewing a monkey – everyone is a suspect!"
Some viewers have spotted chemistry between Jack and Catherine, could that develop into a romance?
Ardal: "I don't want to spoil anything, but I think they are just good friends and they act as confidante for each other. To be honest you never know what's going to happen on this show though – Jack and Commissioner Selwyn might get together!"
How did you feel when Danny John Jules (who reveals here why he left) left the show this year?
Ardal: "You always wonder what will happen and how we replace him. Luckily it's totally out of my hands and I don't envy the people making those decisions. The new officer, Ruby, is an amazing, slightly cartoonish character and she brings lots of fun, energy and comedy to the show. Death in Paradise is robust and it seems to survive cast changes well, there won't be any radical differences. Jack's more integrated into the community now too, he knows how the island ticks and he's no longer a fish out of water."
Why do you think the show is still such a huge hit?
Ardal: "I think it appeals to families with young kids and older people who don't like Happy Valley! It's not threatening, there's no jeopardy or violence… other than the murders, but you don't see a lot of that on screen. You have got the scenery, the novelty factor of the guest cast and the puzzles are kind of ingenious but it is not a complex show, so it's like playing Cluedo!"
Are you still enjoying waking up in paradise every morning?
Ardal: "Yes, the schedule is relentless but the compensations are many and varied. It is just beautiful here. I stay in a villa overlooking the harbour and sometimes I just have to pinch myself. My family come out for about six weeks in the middle of the shoot and I get some cool dad points – for them it has been a life-changing, amazing opportunity to live a different life."
Have you started to notice Death in Paradise tourism hitting the island?
Ardal: "Yes, you see a lot more Brits here every year and Jack's shack is a real landmark. It's hilarious, sometimes we're filming there and the crew are barking at people in the sea to be quiet. These poor people who have spent a fortune flying to the Caribbean are told to stop enjoying themselves so we can film!"
What do you do to unwind after a long day on set?
Ardal: "I'm a bit boring during the week as I have lines to learn, but we get the weekends off to go on adventures. A bunch of us went to another island recently, Monserrat, which was incredible. There was no direct flight or ferry so a bunch of us chartered a boat... it was a hair-raising journey! I also like going hiking and I play tennis against Keith the sound man. Gentlemen don't talk about who wins…"
How many more series do you plan to do?
Ardal: "I never really know from year to year. It's a tough gig but still very enjoyable. Saying that, I couldn't imagine doing it forever. I fudged that question didn't I? I should go into politics!"
Death in Paradise returns to BBC1 on Thursday 10th January at 9pm.
Get the latest updates, reviews and unmissable series to watch and more!
Thank you for signing up to Whattowatch. You will receive a verification email shortly.
There was a problem. Please refresh the page and try again.