Derek Jacobi uncovers links to French and British royalty as he examines his family tree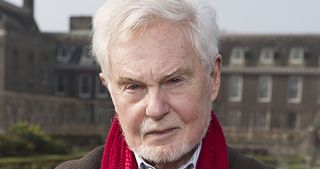 (Image credit: BBC/Wall To Wall Media Limited/S)
Sir Derek Jacobi (opens in new tab) may be a knight of the realm who's played kings, emperors and lords, but he's always been proud of his humbler roots in London's East End. So when he took part in Who Do You Think You Are?, he was astonished to discover that he has some rather high-class family connections. (BBC1, Thursday)
Tell us a bit about your childhood?
"I was born in Leytonstone in 1938, an only child. My father Alfred was a tobacconist and my mother Daisy, was a draper's secretary. I was spoiled rotten. We were a small, close, loving family, a bit "gorblimey" and very ordinary. But I regret that when I was young, I didn't quiz my parents, so I hoped that doing this would fill in some of the answers."
Were you nervous about what you might discover?
"There was trepidation. One of the reasons that I've always been an actor was that you know the plot and how it's going to end; there's a degree of security in that. Whereas, in real life you don't know what's going to happen and I didn't know the plot of this and that was frightening and exciting."
You knew your father's family were German bootmakers, but you decided to follow your mother's line. Why was that?
"I had always been fascinated by her claims of French ancestry. Mum's family were very poor but her grandmother was intriguing because my mother said she was part French and went by the wonderful name of Salome Lapland. So Salome for me was covered in many veils that I wanted to be uncovered."
What did you learn about your grandmother?
"My great-grandmother Salome, was actually called Laplain, and her line went back to Joseph de la Plaigne, my six-times great-grandfather, one of the thousands of Huguenots who, in the late seventeenth and early eighteenth centuries, fled France for England due to persecution of their Protestant faith."
What led Joseph to leave for England?
"He was an important and wealthy bureaucrat for Louis XIV and worked as a lawyer and financier administrating royal lands and advancing the king money in return for the right to collect tax. Joseph ran a terrible risk of losing his job, money and even his life, however, as he had to hide his religion from the staunchly Catholic king who, from 1685, began a bloody campaign against Protestants. Although Joseph pretended to be Catholic for several years, his truth faith was eventually exposed and, on the king's orders, he was imprisoned in the imposing Chateau de Loches, in the Loire valley. It was there I discovered that he made a daring escape from the fortress and headed across the Channel."
Did this make you feel admiration for him?
"I was so excited to find this grand influential gentleman. He had lived a double life as one of Louis XIV's financiers while at the same time being a Protestant, so life must have been pretty edgy. The prison was dreadful and I can't imagine how he'd get out of a place like that, but he was a brave and ingenious fellow. It must have been daunting to arrive on the English coast and it is mind-boggling that he did it at the age of 60-odd. I really admire him; his whole story zings with resourcefulness, because to escape and leave the country requires resolve. I'd love to have met him."
Did Joseph marry and have children?
"There was no record of Joseph having married or had children in France so I was intrigued to know how he had continued the family line. So I headed back to London where I learned that Joseph married at the grand old age of 70 to 25-year-old Salome de la Bastide."
What other information did you unearth?
"Further family links to the upper echelons of society found that their son, William, had the Duke of Devonshire as a godfather and that Salome's brother Armand was one of William III's most favoured supporters and fought at the Battle of the Boyne."
So you have high society ancestors?
"I'd no idea that my journey would end up with somebody so close to the sovereign, it's wonderful. What surprised me is that because my immediate forebears were working class, I thought we were going back on that level but we ended up with friendships in very high places, dukes and duchesses and even a foot in royal palaces. It's been a revelation to discover these people from whom I have emerged are admirable."
Derek Jacobi's Who Do You Think You Are can be seen on Thursday August 27 at 9pm on BBC1.
Get the latest updates, reviews and unmissable series to watch and more!
Thank you for signing up to Whattowatch. You will receive a verification email shortly.
There was a problem. Please refresh the page and try again.