Doctor Who star Jodie Whittaker once claimed a woman would NEVER play The Doctor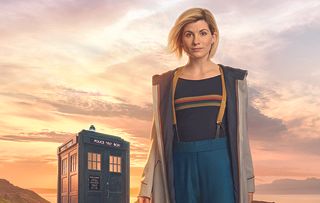 (Image credit: Copyright BBC Worldwide 2017)
The actress was cast as the 13th Doctor last year…
Jodie Whittaker made history when she became the first female to be cast as The Doctor in the hugely popular Doctor Who series.
But it was only a decade earlier that Jodie insisted the predominantly male role would never be portrayed by a female actress.
The 36-year-old made her incorrect prediction in an unearthed interview from 2007 – 10 years before she was cast to play the 13th Doctor.
Speaking to her local paper, North London's Ham and High, about leaving drama school, she said: 'When we were training it was a 50/50 male/female split but we knew when we came out that 80 per cent of acting jobs are for men.
'A woman is never going to get to be Bond or Doctor Who. That will never happen.'
Luckily for Jodie, producers behind the BBC One smash decided to go against tradition and cast her in the role to replace departing 12th Doctor, Peter Capaldi.
Meanwhile, fans are growing impatient waiting for Jodie to make her debut, especially after it was revealed on Friday that filming had officially wrapped on the new series.
After 'Doctor Who Official' tweeted the announcement, fans flooded their feed demanding a premiere date.
One commented: 'Now hurry up and get it on my tellybox.'
Another said: 'NOW GIVE US THE AIR DATE PLS'.
A third added: 'Omg when is the air date!!!'
While a fourth begged: 'AIR DATES PLEASEEEEEE'.
Their questions remained unanswered though and a release date has yet to be confirmed.
Showrunner Chris Chibnall and his production team have maintained much more on-set secrecy than in years past, an apparent ploy to encourage viewers to watch the episodes live after ratings have taken a dip in the last few years.
Get the latest updates, reviews and unmissable series to watch and more!
Thank you for signing up to Whattowatch. You will receive a verification email shortly.
There was a problem. Please refresh the page and try again.