Ex-Downton Abbey and Hollyoaks favourites join new BBC1 drama, Man In An Orange Shirt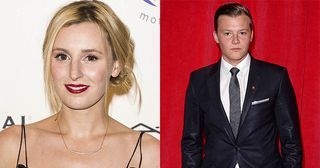 The BBC has revealed the cast for their production of the first screen drama from British best-selling novelist Patrick Gale, called Man In An Orange Shirt
Best-selling novelist Patrick Gale's first TV drama, Man In An Orange Shirt, will star Oscar-winning actress Vanessa Redgrave, the BBC has announced and feature familiar faces from Downton Abbey and Hollyoaks.
The two-part drama tells two love stories, 60 years apart, stories linked by family, and by a painting that holds a secret that echoes down the generations.
Starring alongside Vanessa are Julian Morris (New Girl), James McArdle (Star Wars: The Force Awakens), Joanna Vanderham (One of Us, The Go Between), Oliver Jackson Cohen (Mr Selfridge), and David Gyasi (Containment, Interstellar).
Further cast includes Downton Abbey's Laura Carmichael, Hollyoaks' Charlie Wernham, Julian Sands (The Girl with the Dragon Tattoo, The Killing Fields), Angel Coulby (Merlin, The Tunnel), and newcomer James Godden.
In 1944, British Army Captain Michael Berryman (Cohen) meets war artist Thomas March (McArdle) in Southern Italy while chaos reigns all around them. Despite having a young fiancé, Flora (Vanderham), waiting at home for him, straight-laced Michael finds himself falling for Thomas' bohemian charms.
In 2017, an ageing Flora (Redgrave) looks on as her grandson, Adam (Morris), tentatively forms a relationship with his client Steve (Gyasi) in a more accepting world.
But while the external obstacles have fallen away, a minefield of internalised issues and dangerous temptations still line the road to happiness.
Patrick Gale says: "This was an incredible commission for a novelist unused to writing for television and I seized it with both hands.
"As a writer who has long celebrated and explored alternative sexualities and hidden lives in his fiction, I'd been impatient for the BBC to do something similar for a mainstream audience.
"I hope I've come up with a story that finds the universal resonance in the marginalised. To then see it fleshed out by such a five star cast, including one of my lifelong heroines in Vanessa, is incredible. I've only watched two days' shooting, but already I'm getting that fizzy feeling. Here's hoping it starts a national conversation."
The series is being directed by Michael Samuels (Any Human Heart), produced by Lisa Osborne (Little Dorrit) and made by Kudos for BBC One.
Get the latest updates, reviews and unmissable series to watch and more!
Thank you for signing up to Whattowatch. You will receive a verification email shortly.
There was a problem. Please refresh the page and try again.