Dynasty reboot recasts the role of Blake Carrington's wife Cristal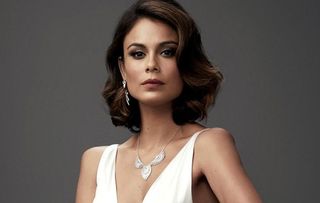 In a shock off screen twist, Dynasty has recast the central role of Cristal Carrington for its second season which starts on Netflix this autumn
The reboot of Dynasty has recast the central role of Cristal Carrington for its second season, which starts in October.
Nathalie Kelley played the role of millionaire Blake Carrington's wife during the first season. But Nathalie left viewers confused when she gave an interview earlier this summer to say she had left the series, leaving viewers to wonder if her character Cristal would be killed-off after (SPOILER ALERT!) being shot by crazy Claudia Blaisdale and trapped in a fire at the Carrington mansion in the season finale.
https://www.youtube.com/watch?v=FXe28RM16nI
However, Mark Pedowitz, president of the CW, the channel that shows Dynasty in the US, has now confirmed the rumours the role of Cristal is bring re-cast and she will now be played by Mexican actress Ana-Brenda Contreras, famous for her roles in various Spanish soap operas and films. But in a true Dynasty-style shocker, she will be playing "the real Cristal". So does that mean Blake married an imposter? How confusing!
"It's a wild soap," he said of the twist. "These are things you do on a soap."
Meanwhile, check out this slap-tastic compilation of Ana Brenda from her days on Spanish telenovelas. Given Dynasty's classic tradition of catfights, she will fit right in!
https://www.youtube.com/watch?v=URdS8N6NMr4
The second season of Dynasty will be available on Netflix in October
Get the latest updates, reviews and unmissable series to watch and more!
Thank you for signing up to Whattowatch. You will receive a verification email shortly.
There was a problem. Please refresh the page and try again.