EastEnders' Lisa Hammond: 'I hated discovering that I had rural roots!'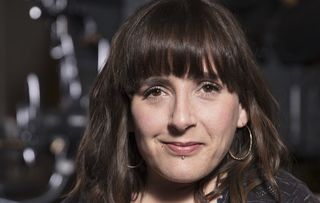 (Image credit: BBC/Wall to Wall/Stephen Perry)
We spoke to EastEnders' Lisa Hammond about discovering her countryside connections in Who Do You Think You Are? and the turmoil her grandfather endured as a prisoner of war...
Family secrets are at the heart of EastEnders but for Lisa Hammond, who plays stroppy market trader Donna Yates in the soap, a real-life mystery has always intrigued her.
The 34-year-old has few memories of her paternal grandfather Harry Hammond, but in next week's Who Do You Think You Are?, she discovers the harrowing story of how he had been part of the Allied campaign in Italy but was captured in 1943 and spent 18 months in several prisoner of war camps in Germany. Here, Lisa tells us about her discoveries…
Why were you keen to find out more about Harry, Lisa? "Well apparently he never talked about what happened and I didn't know anything about him; I had met him fewer than 10 times so it was very moving to find out more about him. My image of Harry was stuck in time but now he is a fully fleshed-out person and I have so much respect for him. I actually met a war veteran, Doug, who was in the same Italian campaign and could even have been standing next to Harry in battle, which was so humbling."
What was it like learning about Harry's experiences as a prisoner of war? "It was horrific. He was in three different camps and two working camps. The conditions were unimaginable but the human spirit is amazing. They tried to make the best of things but they didn't know how long they would be there or when the war would end."
After the war, Harry suffered from psychological trauma and spent time in a civil resettlement unit in Northern Ireland to help him adjust to freedom. Was that tough to discover? "Yes but how those centres reintegrated people to help them get back to their lives was really ahead of their time. I was shocked to hear he stayed in the army after that but it was lovely to see that one report said he was honest and trustworthy. After he left the army he became a painter and decorator and I found out that when he was in the work camps he had been a plasterer so that must have come from there."
On your mum Janet's side, you discovered that her family, the Hilditches, could trace their ancestry back to Wales in the 17th and 18th centuries. You weren't too pleased to have rural roots though were you?! "No, I am real city girl. I hate the countryside. Everyone knows your business in the country and whenever I'm there I say, 'I don't like it, get me back to London!' I was so surprised about the Welsh connection but we visited Denbigh where they came from and it was beautiful and so great to sit in the church where my ancestor was a warden and to go to the house where my nine times great-grandfather lived in the 1600s. It was just so funny to learn that we were farmers though. The cows on the farm kept looking at me, I don't think they had ever seen an electric wheelchair before!"
When your ancestors moved from Wales to the East End in the 18th century they became dock workers, but they missed out on a huge fortune because of a family feud – were you peeved?! "Yes! My three times great-grandfather William, his brother and his stepmum were only left a shilling each by their wealthy uncle Joseph because he said they were 'rude and unfeeling'. He claimed they had sent him to the poorhouse and then an asylum! So they lost out but maybe they deserved it."
As such a devoted Cockney, you must be having a ball in EastEnders? "Absolutely. I watched it growing up so it still feels quite surreal to be in it. I love Donna, she can be harsh and she has no filter but you can't read her lines with a half-hearted spirit. I'd quite like her to show a bit more vulnerability though."
Who Do You Think You Are? airs on BBC1 on Thursday 7th September at 8pm
Caren has been a journalist specializing in TV for almost two decades and is a Senior Features Writer for TV Times, TV & Satellite Week and What's On TV magazines and she also writes for What to Watch.
Over the years, she has spent many a day in a muddy field or an on-set catering bus chatting to numerous stars on location including the likes of Olivia Colman, David Tennant, Suranne Jones, Jamie Dornan, Dame Judi Dench and Sir Derek Jacobi as well as Hollywood actors such as Glenn Close and Kiefer Sutherland.
Caren will happily sit down and watch any kind of telly (well, maybe not sci-fi!), but she particularly loves period dramas like Call the Midwife, Downton Abbey and The Crown and she's also a big fan of juicy crime thrillers from Line of Duty to Poirot.
In her spare time, Caren enjoys going to the cinema and theatre or curling up with a good book.
Get the latest updates, reviews and unmissable series to watch and more!
Thank you for signing up to Whattowatch. You will receive a verification email shortly.
There was a problem. Please refresh the page and try again.