EastEnders star Louisa Lytton reveals why she thinks her returning storyline may divide viewers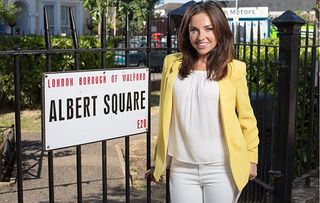 (Image credit: BBC / Jack Barnes)
EastEnders actress Louisa Lytton has confessed that her return to the BBC soap as character Ruby Allen could well divide viewers.
The actress, who originally starred in the soap from 2005 - 2006, returned to the hit show on Tuesday night.
And her upcoming plotline will see Ruby battle with the issue of consent. She and her best friend Stacey Slater will attend a party - but later the next day, Ruby confides in her that she was sexually assaulted.
However, the person she is accusing doesn't see the situation in the same way - meaning it's now her word against his.
Speaking on BBC Radio 1 Xtra, Louisa revealed that she believes the issue is an important one to cover, in order to show people how this happens to other, real-life assault victims.
She said, "It's very important. It's a mainstream TV show with such a diverse audience. They have just covered the massive knife crime story which is very current and important, and now they are doing this.
"It's more of a consent storyline and it's showing people the rights and wrongs and how black and white it is – it's not really a grey area."
Louisa also shared that she and the team at EastEnders are doing extensive research in to the subject, to ensure the portrayal is accurate.
"We are working with Rape Crisis and I am in contact with them pretty much every day. They oversee every script that comes in as it's so important to portray this as true to life as we can."
However, Louisa confessed that she believes the storyline will divide viewers, some of whom may have differing opinions about the situation.
She continued, "Obviously, this is one person's story so we are not trying to say, 'This is what rape is'. But it's important to work with organisations like Rape Crisis and they've been brilliant.
"I think it is going to split the audience about views on consent and what happens to her, which will be a good thing."
EastEnders continues tonight (Friday 21st September) at BBC One, 8pm.
Get the latest updates, reviews and unmissable series to watch and more!
Thank you for signing up to Whattowatch. You will receive a verification email shortly.
There was a problem. Please refresh the page and try again.