EastEnders fans spot HUGE plot hole during New Year's Eve celebrations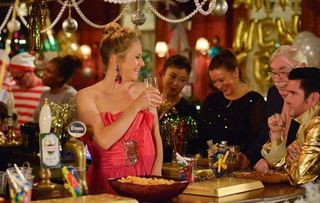 (Image credit: Jenni McKnight)
As the residents of Walford partied in the Queen Vic, Abi Branning lay 'brain dead' in hospital.
You would think there wasn't much to celebrate for the residents of Albert Square - especially considering a handful of them are close to poor Abi Branning, who is lying 'brain dead' in hospital.
But it seems Walford have forgotten about their injured friend and neighbour, something which hasn't gone unnoticed by EastEnders fans.
In Friday night's episode, many viewers at home spotted a huge plot hole in the storyline and questioned why Abi's flatmates and friends are happier than ever while she is dying in hospital.
Enjoying themselves in the Queen Vic, Jay Brown and Ben Mitchell didn't seem to have a care in the world as they celebrated New Year's Eve while their ex-girlfriend Abi lay in critical condition.
And many viewers were quick to point out the massive hole in the story, with one tweeting: 'Once upon a time Abi/Ben/Jay was childhood best friends,now Abi's fighting for her life,Ben,Jay couldn't give a s***.'
While another said: 'Eastenders is too jokes man, Abi and Lauren fell off the pub roof, Abi is basically brain dead & no ones gone to visit her except Max & Cora, and everyone's getting drunk @ the pub including Ben and Jay when they are her house mates wtf! Talk about missing out story lines.'
Others pointed out how there are a few other residents who should have made a trip to Abi's bedside.
'#EastEnders okay so my total round up : Abi's cousins (Sonia and Robbie) her Grandma Dot, her uncle, her housemates, her close friends, her mum are all fine with her dying and can't be arsed to even mention the fact that she and her sister fell off a roof.'
Another questioned: 'Why are Ben, Donna & Jay and Whitney just celebrating without a care when their flat mate and best friend respectively are dying in hospital? Why has Josh not visited Lauren? Where TF did Tanya go? Why is Max killing Steven forgotten? This suuuucks. #eastenders'.
EastEnders returns on Monday at 8pm for an hour on BBC One.
Get the What to Watch Newsletter
The latest updates, reviews and unmissable series to watch and more!
Jenni McKnight is a beauty, lifestyle and entertainment journalist, currently US Lifestyle Editor for HELLO! Online. She has also written for HELLO! Magazine, GoodTo, CelebsNow, Daily Mirror and Yahoo! Her first big break came when she interned on the Guilty Pleasures showbiz desk at Metro newspaper. She has since worked on the online lifestyle team at Woman & Home and Woman and was Senior Content Editor at CelebsNow.