Ed Balls on Donald Trump: 'His politics are dangerous, divisive and manipulative'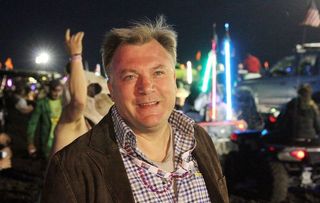 Strictly legend and former MP Ed Balls travels to America's Deep South to meet Donald Trump supporters for his new documentary series.
On the day of Donald Trump's controversial visit to the UK, TV Times is discussing his Presidency with former British MP Ed Balls.
Ed, who had a wildly successful stint on Strictly in 2016 after losing his seat the year before, has returned to his political roots for a new three-part BBC2 documentary Travels in Trumpland, which sees him head to the US to meet Trump supporters in the Deep South.
A patient and unpatronising Ed, 51, tries to fathom their reasons for voting this man into power, and gets rather emotional along the way. Despite calling Trump's politics 'dangerous, divisive and manipulative,' he's determined to gain a better understanding of the President's popularity.
Here, Ed, 51 reveals more about our misconceptions of Trump's America and why one interview saw him acting as a WWE wrestler in a Union Jack leotard…
You're no fan of Donald Trump, but you were adamant you wanted to go into this with an open mind, weren't you?
"Yes, I wanted to make a very different kind of programme. It's not about confirming my viewpoint, we wanted to go to the heartland of Trump's America and find out why people voted for him. I've represented a Leave constituency and done a lot of work on immigration, so I know there are common misconceptions about what people are really like. Lots of people assume Trump voters are deluded or dangerous, but they're just ordinary people with a different point of view. Many don't like how he talks about women or his tweeting, but they still support him because the status quo isn't working for them."
What surprised you most about your conversations with Trump supporters?
"I thought we would find lots of people who had voted for Trump on the basis of a promise, who would now be disillusioned or repulsed, but that was not the case. They're still going to vote for him at the next election. I went thinking he wouldn't win a second term, but now it wouldn't surprise me."
We see you joining in with WWE wrestling – how was that experience?!
"Well I knew I had to join in. I always used to enjoy visits to schools as a politician, I knew if you wanted to talk to mums about tax credits you should do an hour of messy play with their kids first, everyone relaxes and talks more. The wrestling guys were incredibly thoughtful and reflective after we'd spent two days with them. I couldn't do it in a suit and tie so had to wear a leotard. My wife Yvette (Cooper, MP) was horrified and while my kids know that most dads are embarrassing, they say I substantially overachieve! I did say no to shaving my chest though, and I went on a carb free diet after I saw the footage."
You also pay tribute to your friend, late MP Jo Cox, in an extremely moving moment…
"I was with veterans who were toasting colleagues who had died in service. I don't know any veterans but it made sense to mention Jo. My partner does exactly the same kind of surgeries so it absolutely could have been us. Jo was a mum with kids who got shot while she was just doing her job, it shouldn't be forgotten."
How has life changed for you since Strictly?
"Well it's nice that people smile at me now!"
"They saw I don't take myself too seriously and lots say to me that it's nice to see I'm human, not just a politician. That's actually quite painful and frustrating to hear, because of course my wife and lots of my friends are MPs and we're all human. Strictly was so much fun, and people are so much warmer with me now. I used to wake up on a Sunday thinking, 'Did I really do that?!'"
Are you glad to be out of politics?
It's bad to look backwards, but I really liked being a politician. I'm definitely surprised by what I'm doing now, and I get to do lots of interesting things, but it's not as good as being in the Cabinet.
Travels In Trumpland with Ed Balls begins on Sunday 29 July at 10:00pm on BBC 2
Get the What to Watch Newsletter
The latest updates, reviews and unmissable series to watch and more!