War of the Worlds star Eleanor Tomlinson: 'The Martians are terrifying!'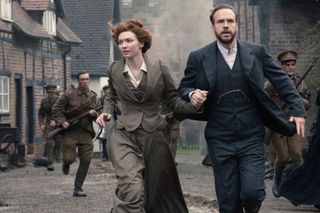 The Poldark star will be taking on a very different role from that of Demelza in this period drama that mixes romance, horror and sci-fi...
Eleanor Tomlinson stars in War of the Worlds as HG Wells' seminal sci-fi tale about a Martian invasion of Edwardian England comes to BBC1 in a spectacular three-part series that will bring this alien story to life like never before.
The Poldark star plays Amy, a spirited and intelligent young woman who has moved to Surrey to start a life with her partner George (Rafe Spall). She enjoys working for local scientist Ogilvy (Robert Carlyle) and when a meteor lands in the woods near their town, the trio go to investigate.
Yet their curiosity soon turns to terror when the giant space rock begins raining down fire on the locals who've gathered nearby, before hatching massive alien tripods that begin moving through the countryside destroying everything in their path.
We caught up with Poldark star Eleanor Tomlinson to find out more about BBC1's War of the Worlds
This sounds like a great series to be involved in?
Eleanor Tomlinson: "It's a quintessentially British tale. We've seen a modern day American version, but for some reason it's never been told in the way it was originally intended, so this is an amazing opportunity to mix period drama with sci-fi and really do the justice to Wells' work. I saw the Tom Cruise version when I was a kid, but it's good to bring it back to Britain."
What kind of woman is Amy in War of the Worlds?
ET: "She's a modern woman who's breaking the rules of the era and that's one of the things that drew me to the role. Amy wears the trousers in their relationship, although they're actually a pair of very comfortable culottes! Peter Harness, the writer, has added a new dimension to the novel by giving the story a strong female lead and I think it really works. It's very different to my role in Poldark!"
WHAT IS ON TONIGHT? Check out our NEW and improved TV Guide
Are you familiar with the book?
ET: "I haven't done much sci-fi so far in my career, but I read the book and I absolutely loved it. Although there's not much Amy in the book, so I was relieved when I read the script! It's probably the first alien story in popular culture and it's never been made in the way it was originally intended and set in this period, so it's a big deal!"
https://youtu.be/RrGJ83iIvD8
Is it true the props team creating the Martian capsule by hand?
ET: "Yes it was built in Bristol and then transported to the set in pieces, like an enormous Terry's chocolate orange! It's priceless to be able to have actual props and sets that are built to react. So many science fiction dramas are built around someone's imagination, so you don't know how someone else sees something unless you have the concept art to work from.
"To be able to have a physical set that we could interact with, like our Martian crash site, has been wonderful. We also had the noise of what the Martians would sound like on set in order to help us react to them. It was slightly terrifying but brilliant to have that element too."
You also filmed in Liverpool's St George's Square, which doubled as Trafalgar Square in London...
ET: "When we were filming outside St. George's Hall in Liverpool all of a sudden there were these very unearthly sound effects that were deeply unnerving. It really helped us get into that zone. With the Red World set, it really was like stepping into another world. Outside the studio it was blazing daylight but once you have stepped through the studio doors and onto the Red World stage you could barely see the person standing in front of you. There was mist and dust and it immediately got us into the zone and mindset of the character and the life that they were living. Pat Campbell and her design team created another planet for us to inhabit. I've never seen sets like them. It really was incredible."
Do you believe in aliens?
ET: "Well who knows what's out there. I did once play an alien in the Sarah Jane Adventures a long time ago. There were a lot of prosthetics. It was really good fun."
There are lots of special effects, how did you find that to work with?
ET: "We did a lot of scenes in front of a green screen, which means you have to react to something that isn't there. It's hard but you have to give it up to the director and trust that he's happy. It can be very tough because you're not quite sure what your face would be if an alien suddenly walked into your space?"
How scary are the Martians?
ET: "The series has a bit of a horror mixed in with the sci-fi and the tripods and Martians are pretty terrifying. It was really interesting to play because the story is set in a steam-powered age, so these creatures with their new technology would have blown people's minds back then."
Did you guys get plenty of action scenes?
ET: "There are some really big explosion and lots of running away from aliens, which was great fun. There's a big horse chase scene and that was brilliant to film. The director asked if I'd a stunt person, but there was no way I was going to let someone else do that bit!"
War of the Worlds begins on Sunday 17th November on BBC1
Get the latest updates, reviews and unmissable series to watch and more!
Thank you for signing up to Whattowatch. You will receive a verification email shortly.
There was a problem. Please refresh the page and try again.