Ex Emmerdale star Natalie Anderson is returning to her roots in new musical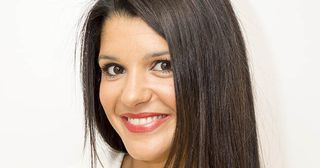 (Image credit: Ken McKay/ITV/REX/Shutterstock)
Natalie Anderson talks about her thrilling and terrifying new musical, getting the work/life balance right and a possible return to Emmerdale
Natalie Anderson talks to Soaplife about her new musical project, motherhood and a possible return to Emmerdale!
Tell us about the musical, Natalie… "It's called Exposure: Life Through a Lens and it's about a fictional young photographer called Jimmy Tucker [David Albury]. He wants to change the world with his photography, then he meets this Svengali character called Miles [played by ex-EastEnder Michael Greco] who tries to corrupt Jimmy by commissioning him to find and shoot the seven deadly sins alive and kicking in London. It's a battle between good and evil."
Who do you play? "A girl called Tara, who is Jimmy's love interest. She's a homeless Irish girl and a struggling artist, and she tries to help Jimmy find his way."
So you have an Irish accent for the role? "A Dublin accent. I like doing different accents and taking on new sounds. I think I'm doing okay. Nobody's said I'm not!"
It's a brand new musical. Is that scary or exciting? "Both! On the one hand, it's absolutely terrifying because you have no idea how the audience will react as they don't know the story or any of the songs. But, then again, it's thrilling because there's a freedom with a new musical to tweak the score and the dialogue. That never happens with an established show. And it's exciting to play a character no one else has ever played.
"I feel like I'm going back to my roots by appearing in a musical. Before I joined Emmerdale, I was playing Nessarose in Wicked in the West End."
Was it scary leaving Emmerdale? "It was very, very scary. I had a fantastic job and worked with lovely people, but I needed more of a work-life balance. I felt I just wasn't seeing enough of my four-year-old son, Freddie. I knew there was a chance I may not work again for ages, but two days after I left I started on This Morning, presenting fashion and travel features, and working just two days a week."
Are you getting to see much of Freddie while you're doing Exposure? "Absolutely, because he's in London with me! He starts school in September, so this is a little London adventure for him before that happens."
Would you ever return to Emmerdale? "If the time was right for both me and the show then, yes, definitely. Right now, though, I'm careful about what I take on in case it means I don't get to see Freddie as much as I'd like."
What are your plans when Exposure ends? "Well, I'll be doing more items on This Morning. But, apart from that, who knows? But I'm not worried. I kind of like not knowing which way life will take me!"
Click for more details on Exposure: Life Through a Lens
Get the latest updates, reviews and unmissable series to watch and more!
Thank you for signing up to Whattowatch. You will receive a verification email shortly.
There was a problem. Please refresh the page and try again.