Erebus: Into the Unknown | The story behind New Zealand's deadliest air disaster examined in a compelling documentary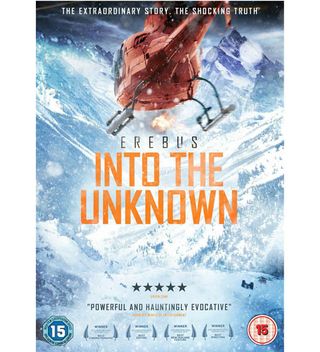 On November 28th 1979, an Air New Zealand charted jet with 237 passengers and 20 crew on board went missing during a sightseeing tour over Antarctica. Within hours eleven police officers were called to duty to face the formidable Mount Erebus on Ross Island. But as the police recovered the victims, an investigation team tried to uncover the mystery of how a jet could fly into a mountain in broad daylight. This is the true story of the men who came face to face with one of the world's worst aviation disasters and became part of one of the most extraordinary police operations…
Erebus: Into the Unknown (opens in new tab) is an emotional and compelling documentary film that might just creep you out a bit if you are planning on booking any flights any time soon, and certainly makes for the most uncomfortable winter viewing. But it's a thriller and chillingly all too real!
The 1970s reconstructions are well handled (there's a retro Mad Men vibe about them), and I could happily have seen the entire film done as a fully-fledged drama. The scene in which the team land on the hostile terrain that would become their base for 14 days is terrifying (lots of snow, ice and debris flying about - you can just imagine how scared they must have felt), while the crash site scenes are harrowing (you can't help but shed a tear when the final body is recovered). The interviews with the investigating team, meanwhile, are so sincere and so moving that you can forgive the flag waving patriotism that creeps through.
This is after all a very human story about how a group of young, inexperienced street cops were forced to become mountain rescuer workers overnight in a bid to carry out a mammoth task with very few systems in place (the identification procedure created during Operation Overdue, as its known, is still very much in use today). With their country in mourning (it was the fourth worst air disaster at the time), they proved their mettle, however, with their resilience and their dedication, eventually returning a total of 213 bodies to their loved ones.
You'll find yourself cheering when members of the investigation team reveal how they and their comrades finally received recognition for their efforts with special service medals in 2007; while you'll be booing Air New Zealand as the end credits reveal how the airline constantly refused to take responsibility for the disaster. To date, the pilots have not been exonerated for following the airline's orders. A truly heroic effort, and that goes to the film-makers as well.
In selected UK cinemas Friday 9 January, and available on DVD (opens in new tab) and On Demand from Monday 12 January http://youtube.com/v/XtwkKR7JFPg
Get the latest updates, reviews and unmissable series to watch and more!
Thank you for signing up to Whattowatch. You will receive a verification email shortly.
There was a problem. Please refresh the page and try again.