What to expect in Game of Thrones season seven!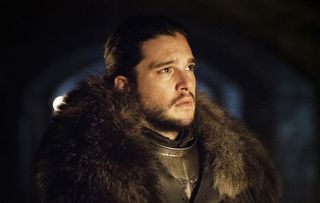 (Image credit: HELEN SLOAN / HBO)
What's new in Westeros? Here's our picture guide to Game of Thrones season seven…
The long wait is nearly over… Epic fantasy drama Game of Thrones returns to Sky Atlantic in July with a seventh season of scheming and swordplay between the rival claimants to the Iron Throne.
We left off season six with Cersei back in control at King's Landing after disposing of her enemies in merciless fashion. However, with Daenerys Targaryen and her fleet heading across the Narrow Sea, the scene looks set for a spectacular showdown.
Here's our sneak peak at some season seven pictures…
Cersei blew up the Great Sept of Baelor, wiping out her enemies, before taking the Iron Throne after Tommen's suicide. Jaime is now by her side, but remember the witch's prophecy that Cersei will lose her crown…
After setting sail for Westeros, Daenerys has finally arrived on dry land with her entourage. Have they made it across the Narrow Sea to King's Landing? And who (or what) are they squaring up to here?
With Hodor gone, Meera is left carrying Bran Stark, who's now the Three-Eyed Raven. Will he find Jon Snow and tell him the truth about his parentage?
Lady Lyanna Mormont stole the show when she convinced the lords of the north to support Jon Snow. But with a shady-looking Littlefinger lurking in the background, should she watch her back?
Is Littlefinger poisoning Sansa Stark against her new northern king, Jon Snow? And would she really choose the arch schemer over her family?
We last saw Sandor 'The Hound' Clegane embarking upon a mission to the North with the Brotherhood Without Banners. Judging by the weather, he's stuck to his word. Will he cross paths with the White Walkers?
Wildling love is in the air as Tormund Giantsbane's fascination with Brienne of Tarth continues – but does Brienne's heart lie with Jaime Lannister?
Discovering Stannis's daughter Shireen was burnt at the stake by Melisandre he crushed the Onion Knight, but as a key defender of the North, Ser Davos may find a new friend in warrior child Lyanna Mormont.
Sam and Gilly are exploring the Citadel's vast library in Oldtown, but on closer inspection, Gilly is reading the story of 'Azor Ahai', a mythical hero who was prophesied by Melisandre. Is this the newly resurrected Jon Snow?
Missandei cements her allegiance to Daenerys by wearing a Targaryen brooch featuring three dragonheads.
There's no sign of her dragons, but after crossing the Narrow Sea, could Daenerys be at Dragonstone, the long-time home to House Targaryen?
After recruiting the Tyrells and Sand Snakes as allies for Daenerys, Varys is a major player in her inner circle. However, the Spider has a history of betrayal…
A proud bearer of the Hand of the Queen pin, Tyrion is Daenerys' most trusted adviser. Will we discover Tyrion also has Targaryen blood running through his veins?
Find out when Game of Thrones resumes on Sky Atlantic in
Get the latest updates, reviews and unmissable series to watch and more!
Thank you for signing up to Whattowatch. You will receive a verification email shortly.
There was a problem. Please refresh the page and try again.