The White Lotus season 3: everything we know about the hit show
What's next for the award-winning limited series?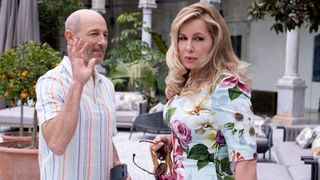 (Image credit: Fabio Lovino/HBO)
Over the years, HBO has developed a knack for creating hit shows. From The Sopranos to The Game of Thrones to House of the Dragon to Euphoria, the network just has a gift for putting forth some of the most provocative and critically-acclaimed programs TV watchers have ever seen. With that said, it should come as no surprise that HBO found another hit with The White Lotus.
Created by Mike White, the series has already made quite an impact on pop culture since debuting in 2021. The show has amassed 10 Emmys, two Golden Globes, two Critics Choice Awards and serves as a hot topic on many social media platforms. With all this steam in the show's sails, there is just one pressing question fans have. When is season 3?
Well, here's everything we know about The White Lotus season 3.
White Lotus season 3 release date
Let's start with the good news. HBO asserted with a tweet that The White Lotus season 3 is coming. Take a look.
You already know The White Lotus is to die for. Book your next vacation now.#TheWhiteLotus has been renewed for Season 3. pic.twitter.com/mQK8KSb0bUNovember 18, 2022
Now although we can confirm season 3 is in the works, we unfortunately can't confirm when fans can expect it to arrive. Thumbing through history, season 1 premiered on July 11, 2021, and season 2 debuted on October 30, 2022. If thank pattern continues, we'd venture to say season 3 could kick off either late 2023 or early 2024.
Once we get official word on a release date for season 3, we'll pass along the update here.
In some good news, in the US, you can rewatch your favorite episodes from previous seasons on HBO Max, while UK fans can do so via Sky TV and NOW TV.
White Lotus season 3 plot
Note: some SPOILERS if you are not caught up with The White Lotus season 2.
The White Lotus follows hotel guests and employees as they navigate the complexities of their lives. For the guests, vacationing at a luxury resort should be a time of rest and relaxation, but that's often not the case as they spend their time in drama and chaos. Meanwhile, White Lotus employees usually have to help the guests with their conflicts, and yet, find time to deal with their own.
In the series' fictional realm, the White Lotus resort chain has locations all over the world. In season 1, the show zeroed in on the Hawai'i location, while season 2 honed in on the property in Italy. The location for season 3 hasn't been revealed, but we get the sense that viewers can prepare to be taken to another breathtaking place.
Although we don't have an official synopsis for season 3, Mike White has dropped some hints for the series' future via the HBO short Unpacking Season 2: Episode 7 with Mike White. For starters, White offered the possibility that given the nature of Tanya's (Jennifer Coolidge) death and the other men that were on the yacht in the finale, that a possible investigation may be in the works. One that could lead to connecting Tanya's husband Greg (Jon Grines) to the tragic events.
White also mentioned in the clip that the first season highlighted money and the second season sex. When talking about the third season he states, "And I think the third season, it would be maybe a kind of satirical and funny look at death and eastern religion and spirituality."
As we get closer to the season 3 premiere, we'll be able to shed more light on the plot of future episodes. In the meantime, hear from White yourself about his thoughts on the season 2 finale and what's to come.
The White Lotus season 3 cast
We're waiting to receive official casting news about season 3, but the season 2 finale gave fans quite the surprise with the death of the beloved character Tanya, played by Coolidge. Given The White Lotus thus far doesn't deal in ghosts, it's a pretty safe bet the actress won't be back to reprise her Emmy-winning role.
In some speculative news, Connie Britton may actually be back to play the character Nicole Mossbacher. Speaking with Deadline (opens in new tab), Britton stated:
"He [White] wanted me to be in the second season, and there was an idea that I loved for the character. Our intention is to do it in the third season."
As more casting news becomes available, we'll be sure to pass it along.
The White Lotus season 3 trailer
It's a bit too early for an official trailer. However, once one is released, expect to find it here.
How to watch The White Lotus
The White Lotus is an HBO original, so those in the US need a subscription to the premium channel to watch the show live on TV; HBO is a part of cable/satellite TV packages. The series also streams on HBO Max.
UK viewers will have to turn to Sky TV and NOW TV to watch the latest episodes of The White Lotus.
Get the latest updates, reviews and unmissable series to watch and more!
Terrell Smith has a diverse writing background having penned material for a wide array of clients including the federal government and Bravo television personalities. When he's not writing as Terrell, he's writing under his pseudonym Tavion Scott, creating scripts for his audio drama podcasts. Terrell is a huge fan of great storytelling when it comes to television and film. Some of his favorite shows include The Crown, WandaVision, Abbot Elementary and Godfather of Harlem. And a fun fact is he's completely dialed into the TLC 90 Day Fiancé universe.
Thank you for signing up to Whattowatch. You will receive a verification email shortly.
There was a problem. Please refresh the page and try again.