Facejacker's Kayvan Novak returns with Britain Today, Tonight: 'I really wanted to do a prank show that was topical'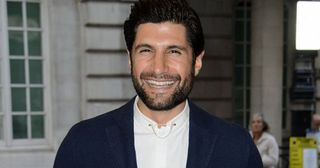 The satirist has a new show on Channel 4 but says Brian Badonde may return soon...
It's been nearly five years since the final episode of cult comedy Facejacker, but Kayvan Novak will be going undercover to prank members of the public all over again in a brand new satire show.
The wind-up merchant has a fresh set of latex masks and will be playing a new set of characters for Britain Today, Tonight, which takes the format of an American current affairs programme reporting on UK news.
"I first had the idea a few years ago," said Kayvan, who first rose to fame with prank call show Fonejacker. "I really wanted to play a FOX News style anchorman and do a prank show that was topical, so I came up with a few crazy new characters and away we went!"
Kayvan told us more…
What made you decide to return to this kind of comedy? "Nothing really satisfies me like this kind of work, because I don't get to play such a broad range of characters when I can't wear a mask and do a voice. In this show I can play whoever I want and no one can offer me anything that comes close to that. I just love creating characters and performing them in real-life situations, because I think that's what I do best. So to have the chance to make 10 new ones and perform them, that's my idea of heaven!"
Britain Today, Tonight's host, Douglas 'Digger' Daley is quite a character… "I really wanted to do an older, grumpy, American guy, whose style was quite bullying. That's what the anchors of networks like FOX do, they get people on to their shows and they bully them, then they're off! So I thought he would be a great frontman for the show, most of the other characters aren't American and they soon fell into place."
With American news networks are in the spotlight at the moment, the timing couldn't be better… "It's chimed perfectly because everyone's obsessed with the news right now. People are obsessed with Trump and the way news is reported in the US. This show is something I wanted to make for a few years and in a way it's a blessing that he got in, because you can kind of imagine him watching the programme and enjoying it because it's his kind of thing. Trump and Douglas 'Digger' Daley would get on like a house on fire."
What can we expect to see in this week's first episode? "Scottish reporter Ken Kildoon is hitting the streets of London on his bike to keep the capital's motorists in check, Security correspondent Jon Donovan will looking for terrorists in a shopping centre and there are a few more bits and pieces. You'll have to watch to find out!"
You were getting a bit of road rage from motorists when you were on your bike, were you scared at any stage? "Not really, when you're in character and you jump on a bicycle it's not you on the bike, it's your character so all fear and caution goes out the window. It feels liberating to go and tap on people's windows if they're on their phone... 'Naughty! Naughty!'"
We've all seen crazy American reality series, those kind of shows must have felt like a rich vein of comedy? "The British sense of humour is dry, so it's the perfect place to make jokes like that. If you put it on US TV people would think it was real. I think it will be real in a couple of years' time. I'm doing it before it gets done for serious. Maybe someone in America will watch and try to sign us up!"
Do you still get a buzz from pulling these pranks on people? "Yeah definitely, but I still get nervous as well. Sometimes it's difficult to keep a straight face when someone says something funny, but you've got to stay in character. You can usually tell if you're reeling them in or not, but if they're getting away you have to reel them in again. It's like catching a fish, but you have to keep landing it."
https://youtu.be/W2bB7uIVopA
Do you think we'll ever see any of your Facejacker characters again? "I never felt like I did the characters on Facejacker to death, so I'd love to do more with those characters. I would love to do stuff as Brian Badonde again and I'm sure I will one day. People still come up to me all the time and ask me to do him!"
What kind of thing could you see Brian Badonde doing next? "I'm talking to some people about doing a celebrity interview type of thing as Brian. It's called 'Brian's Berspective', he basically meets a celeb and then goes on a journey through their career, it's more artsy fartsy than live chat show and it's set in an art gallery."
It must be great when you pull off a prank and get a great response... "When there's a good one it's amazing for the whole team because any one of those hits has taken a couple of weeks to organise. It's a mass deception, until the moment they come out of the room with me and we say 'Listen, we haven't been straight with you...' They're either relieved or elated. 'I love Kayvan Novak, but I had no idea!' so its always a good experience for them as well. 'Oh my god I'm not going mad. He's the loon and not me!' Yeah, it's rewarding."
What happens if people don't want to appear on TV? "You beg them, offer to give money to charity on their behalf, but some people are like 'Thank you but no.' It's hard, but I'm used to it now. It's part and parcel of making prank TV."
Kayvan Novak premieres in Britain Today, Tonight on Channel 4 on Thursday May 4 at 10pm
Sean has been writing about all things telly for over 10 years and in that time he's been lucky enough to interview stars like Ian McKellen, Tom Hardy and Kate Winslet. His favourite shows are The Great British Bake-Off, People Just Do Nothing and Succession and in his spare time he enjoys drinking tea, doing crosswords and watching football.
Get the latest updates, reviews and unmissable series to watch and more!
Thank you for signing up to Whattowatch. You will receive a verification email shortly.
There was a problem. Please refresh the page and try again.