Fantastic Films of the Decades | Legendary 1930s horror, sci-fi and fantasies feature in the second volume of this fan-tastic series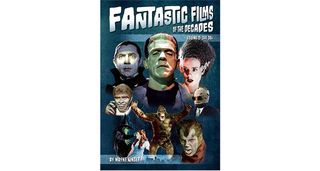 Hot on the heels of Hammer historian Wayne Kinsey's first volume of Fantastic Films of the Decades, which dealt with the early silent era, comes the second volume in his fan-tastic series of books chronicling horror, sci-fi, thriller and fantasies through the years.
It's the 1930s, which was the Golden Age for these genre films, an era when Hollywood studio Universal first brought to the silver screen their classic monsters Frankenstein and Dracula, while other major studios brought together a wealth of talented, creative and imaginative writers, directors, technicians, make-up artists and – yes – star talent, to give audiences the ride of their lives in a host of films. Many have become enduring classics (like The Wizard of Oz and King Kong) and continue to influence today's box-office hits. Some 118 films and classic cliffhanger serials (including Flash Gordon) are explored over the 265 pages, which also highlight the era's film legends (from Bela Lugosi to Basil Rathbone).
This signed and numbered hardback (which has a limited edition of 500 copies) is available exclusively through Peveril Publishing's website.
CLICK HERE (opens in new tab)
Thank you for signing up to Whattowatch. You will receive a verification email shortly.
There was a problem. Please refresh the page and try again.