Five Dolls for an August Moon (1970) | Blu-ray release | Mario Bava's Italian Pop Art whodunit is simply ravishing in HD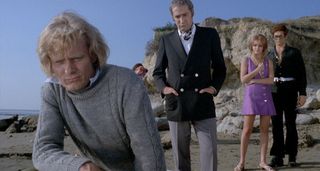 From the master of the macabre, Mario Bava, comes the 1970 Italian thriller, Five Dolls for an August Moon on Blu-ray and DVD from Arrow Video.
Wealthy industrialist George Stark (Teodora Corrà) has gathered a group of friends – played by a who's who of Italian genre cinema including William Berger, Ira von Fürstenberg, Edwige Fenech and Howard Ross – to his island retreat. He hopes to entice them into investing in a new project, but soon the cocktail parties and illicit sexual shenanigans give way to murder, as the corpses begin to pile up one by one.
With a Pop Art nod to Agatha Christie's classic whodunit, Ten Little Indians, Five Dolls for an August Moon cranks the style up to 10. Surrounded by gorgeous women, a stunning beachside locale, Wallpaper-style set design, and flamboyant fashions – and set to an exotic jazzy score – director Bava creates one of his most eye-catching movies.
This new disc from Arrow Video features both HD Blu-ray and SD DVD presentations re-mastered from the original film elements, and also includes the archive documentary Mario Bava: Maestro of the Macabre hosted by film critic Mark Kermode, and featuring interviews with Joe Dante, John Carpenter and Tim Burton.
http://www.youtube.com/watch?v=ZN9-c5QazD8
Thank you for signing up to Whattowatch. You will receive a verification email shortly.
There was a problem. Please refresh the page and try again.