Fleabag series two - 'There's immense pressure trying to do it again,' says Phoebe Waller-Bridge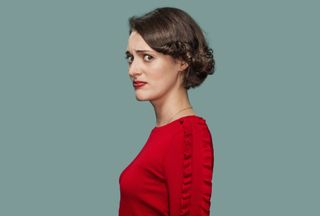 (Image credit: BBC/Two Brothers/Steve Schofield)
Phoebe Waller-Bridge on the return of her acclaimed sitcom
Before she wrote 2018 BBC hit Killing Eve, Phoebe Waller-Bridge wowed us with her addictive comedy Fleabag. Now the brutally honest BBC3 series returns for a second run, with Fleabag series 2 delivering yet more telling looks and hilarious one-liners that are delivered straight to camera.
Bill Paterson and Olivia Colman are back to play Fleabag's widowed dad and her poisonous godmother as the series starts with an awkward dinner party celebrating their engagement. Meanwhile, Hugh Skinner reprises his role as Harry, one of Fleabag's useless boyfriends, and Sian Clifford returns as her sister Claire, who she still isn't speaking to.
They're joined by a new cast member, Sherlock star Andrew Scott. He plays an unconventional priest who Fleabag finds herself strangely drawn to, while Kristin Scott Thomas and Fiona Shaw also join, though details of their characters are being kept under wraps.
Here, Waller-Bridge, 33, tells us what to expect in Fleabag series 2…
Where did you first get the inspiration for Fleabag?
Phoebe Waller-Bridge: "I felt vulnerable a lot of the time, and frustrated about things that aren't really allowed to be said by young women in a public sphere – talking about your life, the messy parts of your brain, worrying that you're not the right kind of feminist, hating your body even though you've got to be proud of it. So it came from that. There's something electrifying about being allowed to say the truth without any worthiness."
What can you tell us about Fleabag series 2?
PWB: "You'll see a new side to Fleabag. She has had to grow this year, and something deeper had to happen. I always felt like Fleabag would be angrier this series, and there would be an act of violence. I learnt more about blood working on Killing Eve!"
What can you tell us about Andrew Scott as a priest?
PWB: "I looked at the notes I made for this series and a lot of the jokes I'd written were about religion, so I thought of writing a priest – someone who could be a match for Fleabag, but also so different. I didn't know how to make it work until I had a coffee with Andrew, who plays him – I don't think this character would exist unless he had agreed to do it. The idea with the priest is Fleabag realises he's not who she thought he was and that's exciting for her."
There's a huge rift with her sister, Claire. Will that be healed?
PWB: "You can be the ugliest version of yourself with a sibling, and Fleabag and Claire love each other with such a violence, it's pulsing through them all the time. So when Claire betrayed her at the end of the last series, it felt worse than any romantic break-up. The challenge is how to then bring these two prickly people back together so they can love each other again."
Is it intimidating trying to live up to the success of the first series?
PWB: "There's immense pressure trying to do it again. My writing process is 'panic, panic, hope'. I wish I had a plan! I have the big ideas early on and then doubt them for ages but at the last minute it somehow all comes together."
Fleabag series 2 begins is available on BBC3 and BBCiPlayer from Monday 4th March from 10am.
Get the What to Watch Newsletter
The latest updates, reviews and unmissable series to watch and more!