Frankenstein: The True Story (1973) | The star-studded TV mini-series based on Mary Shelley's classic novel gets a first-time UK DVD release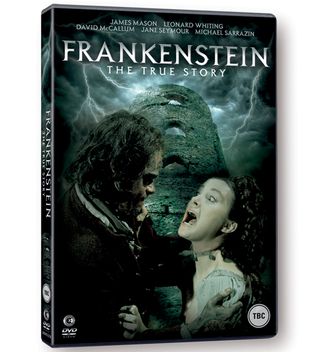 SYNOPSIS In 19th century England, Dr Victor Frankenstein (Leonard Whiting), bitter over his brother's untimely death, voices his wish that men could have power over life and death. Following a chance encounter with Dr Henry Clerval (David McCallum), a surgeon experimenting in this very field, they join forces and Victor achieves the impossible, the creation of life. He creates a handsome young man (Michael Sarrazin), but unforeseen problems and the involvement of scheming scientist Dr Polidori (James Mason) lead to shocking, unimaginable horror…
THE LOWDOWN One of the most lauded versions of Mary Shelley's classic novel, Frankenstein: The True Story was originally shown as a two-part mini-series in the winter of 1973, with an edited version subsequently shown theatrically in Europe.
Adapted for television by Christopher Isherwood, who's best known for his 1930's Berlin stories that inspired the musical Cabaret, and his partner, artist Don Bachardy, and helmed by Battle of Midway director Jack Smight at London's Shepperton Studios for Universal, this ambitious 181-minute epic strives to be more faithful to Mary Shelley's novel than prior film versions.
Thus, as in the book, Victor Frankenstein's creation is no monster, but a second Adam, a handsome young man of high intelligence. It is only when the creature's body begins to deteriorate that Victor – with the help of Polidori, a character not in Shelley's novel, but based on Ernest Thesiger's Pretorius in The Bride of Frankenstein – tries once again to create life in the form of a new Eve.
The stellar all-star cast also includes Jane Seymour as the Creature's intended mate, Prima, veteran actors Ralph Richardson, John Gielgud and Agnes Moorhead (in her second to last role), as well as Nicola Pagett (Upstairs, Downstairs) and future Time Lord, Tom Baker.
Frankenstein: The True Story is released in its original 4:3 ratio, in a 176-minute cut, for the first time on DVD in the UK through Second Sight Films, and includes an introduction James Mason.
Get the What to Watch Newsletter
The latest updates, reviews and unmissable series to watch and more!