Game Of Thrones star Emilia Clarke named Esquire's Sexiest Woman Alive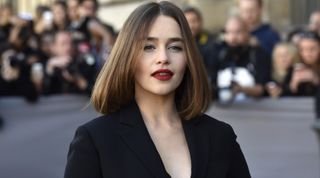 Game Of Thrones actress Emilia Clarke has been named the Sexiest Woman Alive by Esquire magazine.
The 28-year-old Londoner is best known as the white-haired Daenerys Targaryen, aka Khaleesi, aka Mother of Dragons in the hit TV drama.
In addition to her high-profile role on the massively popular HBO series, Emilia played Sarah Connor in the revamped Terminator: Genisys.
It's official: Esquire's #SexiestWomanAlive 2015 is…Emilia Clarke: http://t.co/azdddlUG6X pic.twitter.com/hNPtYFDHpk
— Esquire Magazine (@esquire) October 13, 2015
"She can do fierce, but also friendly. She can be queen, but also kid sister, killer or girl next door," writes Benjamin Markovits in the Esquire story accompanying Emilia's nude cover.
Lisa Hintelmann, editorial projects director for the magazine, called the actress the 'all-around favourite'.
"Emilia Clarke is unforgettable in Game Of Thrones and was hands down the number one choice of Esquire's staff, friends and family," she said.
http://www.youtube.com/watch?v=A0pLbTXPHng&feature=oembed
Emilia followed her brother into boarding school because 'I fancied his friends', she told Esquire, then she went on to study drama in college, filming a couple of episodes on the long-running British daytime soap Doctors after graduation. She worked multiple jobs while living with friends before Game Of Thrones changed her life when it began airing in 2011.
The actress recalled some difficulties on the show early on. She was just 23. There was full frontal nudity, lots of sex, even a rape scene. She tells Markovits how she suffered along with her character.
"Once, I had to take a little time out," she said. "I said I needed a cup of tea, had a bit of a cry, and was ready for the next scene."
Get the latest updates, reviews and unmissable series to watch and more!
Thank you for signing up to Whattowatch. You will receive a verification email shortly.
There was a problem. Please refresh the page and try again.