Gogglebox stars Stephen and Chris: 'The show played a big part in us breaking up'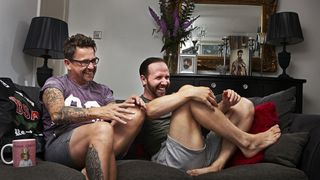 Gogglebox stars Stephen and Christopher on how the hit C4 show (returns Friday, March 7) split them up as lovers then brought them back together as friends...
Are you looking forward to Gogglebox returning?
Christopher: "Oh my god, yeah! I can't wait for it to start again. It becomes such a massive part of your life. It's hard work and with the film crews and all that, but it's such a brilliant experience. As soon as it finishes, you just feel a bit lost. It just becomes a way of life."
What have you been watching while Gogglebox has been off air?
Stephen: "Celebrity Big Brother was quite good this year. I have tuned in to Splash! – I don't really pay much attention to what's going on, it's just for the trunks really…"
Chris: "I've been watching some of Benefits Street – it makes you feel quite angry at times! I absolutely love Mr Selfridge at the moment, and I've even had my beard cut like Mr Selfridge because I love him and I love his beard. That's quite sad really isn't it?"
What shows do you really hate?
Christopher: "I'm not very good with the soaps, as they're quite negative. Bit doom and gloom. I think why do people want to watch EastEnders – maybe it's the feelgood factor because then they can realise their lives aren't as bad!"
Stephen: "Anything with Jeremy Clarkson in it. I hate him. I just think he's a slob, big beer gut…and how can you talk about cars for an hour?"
Do you watch Gogglebox?
Stephen: "Oh god yeah, I go straight round to Chris's, and we have a pizza or something like that, and we'll keep rewinding it and we just laugh at ourselves really. But I have had to go on a diet, because watching the second series I realised that I'd put on half a stone doing the show. All we do is eat takeaway and I thought 'I'm on national TV and I look a mess!' and so I'm going to try and come back a bit buffer this year!"
Have they filmed you watching Gogglebox yet?
Stephen: "No, I think they thought about doing it, but I don't know. I mean that really would be TV eating itself wouldn't it?"
When series one started, you'd been dating each other for six months, but now you're just friends. Did Gogglebox ruin your relationship?
Christopher: "I think maybe having those intense nights where we would automatically be spending that time going out and doing nice boyfriend things, when you've got a film crew around you I think it enhances some of the things you possibly don't like in each other!"
Stephen: "It did play a big part, yeah, I must admit. Because we spent so much time together. Then we realised that our opinions are quite different, and the show did highlight that. And I did feel when I watched it back that I almost pick on him, and I didn't like that feeling. And I thought as a friend it's more acceptable to be like that, but as lovers, no, it didn't work. But we've known each other 10 years and I think we're even closer friends now. I'm with someone now, he's with someone now, it's all amicable!"
Was it tricky starting a new relationship when you have to spend so much time with your ex-boyfriend for the show?
Stephen: "Well that's exactly what happened. My partner now, he's absolutely fine with it. He said, 'You've got this opportunity, most people would die to be on a programme like that', because I was thinking about not doing it again – mainly down to me and Chris not being together any more. But in the end I thought it would be silly not to!"
You're both hairdressers in different salons. Do you find you're having more custom because of the show?
Stephen: "Yeah, a few people have come in and just wanted their photograph with me and some have booked in because of the show. One woman did say she wasn't going to come back because I take part in Gogglebox and I swear a lot. But we did offer her 50 per cent off and if she does come back in I'll apologise for my potty mouth!"
Get the What to Watch Newsletter
The latest updates, reviews and unmissable series to watch and more!